KEVIN AYERS The Unfairground Lomax (2008)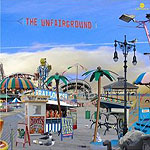 Unprolific gentleman rocker Ayers cocks a snook at detractors of his 80's output, bookending eight new songs with reworkings of 'Only Heaven Knows' and 'Run Run Run', highlights of an admittedly fallow period, in his first new album in 15 years.
It's successfully valedictory: they, in common with the rest of this slight but elegant work, are at much more at home in the velvety warmth of analogue. 'The Unfairground' is only some 34 minutes in length, but the quality of writing and performance is consistent.
Chums and acoloytes such as Teenage Fanclub, Phil Manzanera and Bridget St John pop in with some too-brief cameos (26 musicians are credited in the slipcase) in a rich acoustic construct with mariachi, strings and girl choruses so busy in parts as to boss the star's brown baritone from the mix.
Minor carp aside, 'The Unfairground' is a smooth and knowingly-retro ride for an individual writer and performer, back on early form.
****
Review by Peter Muir
---
| | |
| --- | --- |
| | Print this page in printer-friendly format |
| | Tell a friend about this page |