JOURNEY Revelation Frontiers (2008)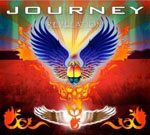 The story should be very familiar by now: Journey sacked Steve Augeri replacement Jeff Scott Soto after just a few months in the band to replace him with the tiny Pilipino tribute singer Arnel Pineda after guitarist Neal Schon saw footage of him on YouTube. Consequently they've had more publicity then they've had in over a decade and sales have rocketed for their new album, going Top Ten in the States. So if it was just a publicity stunt, it was a bloody good one. Time will tell if there is any longevity in this new line-up.
But the fact is, 'Revelation' is a bloody good album that recalls Journey's glorious heyday pre-1986s 'Raised On Radio.' Pineda is a brilliant Steve Perry sound-a-like with enough breath to handle the ballads and the faster songs. 'Change For The Better' and 'Never Walk Away' are superb songs; this is what Journey does best. And the ballads are just as effective; 'After Al These Years' is a wonderful piano ballad. Schon's riffs here are just as engaging as they are on some his finest work; just check out 'Wildest Dream.' The instrumental 'The Journey (Revelation)' is a neat touch.
It's expertly produced by Kevin Shirley. Even the second disc, which is basically a re-recording of some of their greatest hits, is pretty good but you can't beat the originals. The Wal-Mart/American version comes with a DVD live performance, which I've heard is pretty cringe worthy so the UK edition may be your best bet. I really didn't expect this album to be so impressive. It is certainly a contender for melodic rock album of 2008, no question.
****
Review by Neil Daniels

---
| | |
| --- | --- |
| | Print this page in printer-friendly format |
| | Tell a friend about this page |