Jimi Hendrix opened for him...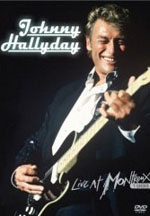 It's surely more than just the obvious fact that Johnny Hallyday sings only in French (albeit with the occasional Franglais) that he remains 'the biggest rock star you've never heard of'. He has after all been a star in his native France since the late 60's when he was considered cool enough to record with the Small Faces.
More than crooner in rock and roll trappings Hallyday has a gritty voice that is well suited to his career renaissance since on the back of 1985's 'Rock 'n' Roll Attitude', the song that opens this 'Live at Montreux' performance. In some respects he might he cuts a similar figure to Chris Farlowe in the UK, a useful interpreter of song with an unfashionable profile, but unlike his British counterpart he has with millions of sales behind him to overcome any snipes.
This concert was filmed in '88 three years into his collaboration with Michael Berger, who dresses Johnny in rock and roll clothing on the tough rocking opener 'Rock 'n' Roll Attitude' and 'Pendue A Mon Cou', and showcases him as a balladeer on the closing hit 'Quelque Chose de Tennessee'.
Berger's fellow song-writing producer Jean-Jacques Goldman provides five songs including the ode to Johnny's daughter 'Laura' and the rock and roll swagger of 'Dan Mes Nuit On Oublie', while Johnny veers towards retro rock & roll on 'Mon Pettit Loup' and more obviously 'Whole Lotta Shakin Going On'.
On the slide led, self-penned blues intro of 'La Musique Que J'aime' Johnny's guitar sounds horribly out of tune, a curious slip given the otherwise slick big band trappings. Even more curious is the bonus track which sees limited balladeer Erick Bamy (Johnny back up singer for 27 years) take centre stage. Like much of this set you do wonder where this all fits into the great scheme of things.
Perhaps we've all just woken up to discover that Rock has gone the way of jazz - the music of our grandparent's generation - it's good stuff but so passť!
***
Review by Pete Feenstra