GLEN CAMPBELL - Meet Glen Campbell EMI Capitol (2008)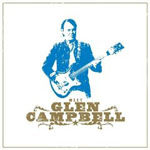 Glen Campbell - a name to conjure with. Who amongst us baby boomers can't recall instantly the strains of Wichita Linesman, Galveston, and Rhinestone Cowboy? Classics, each and every one. But who of us can name another Glen Campbell track? No, me neither.
Glen no doubt makes a pretty penny in royalties from those golden oldies, and no doubt makes a comfortable living from giving them a regular 'live' airing. But reliving past glory days isn't always enough. Johnny Cash saw the light when Rick Rubens encouraged him to try his hand at interpreting some contemporary material, and latterly Neil Diamond has also seen his bank balance expand under Ruben's guidance.
Glen, or at least his 'new friend' Julian Raymond, has taken one look at this money making blueprint and decided to take a spin on the same roulette wheel. Hence these 10 handpicked pop rock songs for Glen to throw his hat at - covers of Sing (Travis), Times Like These (Foo Fighters), All I Want Is You (U2), alongside others by Tom Petty, Jackson Browne, Replacements, Velvets, Green Day and Lennon tracks.
You might wonder what Glen covering, say Travis sounds like. The answer, unfortunately, is just that. Unlike Cash, who reinterpreted the tracks he covered, Glen plays is straight down the line. And that's the way the album pans out I'm afraid. Which may be OK for the faithful, but it's not likely to add any converts to the clan. An opportunity missed? Almost certainly. But hey, nothing lost, nothing gained. What next? An album of Cliff plays Metallica?
**½
Review by Pete Whalley
---
| | |
| --- | --- |
| | Print this page in printer-friendly format |
| | Tell a friend about this page |