GENESIS When In Rome 2007
EMI (2008)
And then there were three DVDs...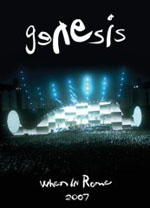 A three disc set (well only for WalMart customers - two discs everywhere else) taken from the band's reunion which featured Phil Collins, Mike Rutherford and Tony Banks but no Peter Gabriel or Steve Hackett as was muted when the reunion rumours first surfaced.
I am not the world's biggest fan but even I was blown away by the production on the live DVD - great feature whereby each track has its own extras.
The lighting effects are simply amazing and you get some pretty nifty 3D animations on certain parts of the show. There are the Phil Collins led era hits like 'I Can't Dance', 'Invisible Touch' and the menacing 'Mama' - Collins goes psycho!
But for fans of the band's more prog rock 70's output the band wheel out 'In The Cage' and the simply superb 'I Know What I Like (In Your Wardrobe)'. Ably supported by Chester Thompson on drums/percussion and guitarist Daryl Stuermer, the three main men show their musical prowess with Phil Collins in good voice.
The third DVD is an interesting documentary on the band with band and crew interviews along with backstage/behind the scenes footage.
Pretty damn essential for the band's many fans and those who miss Peter Gabriel at least you can enjoy the older songs given a run out on here.
The band have now gone their separate ways again with Phil Collins 'retiring' from the music business but never bet against one more reunion with hopefully Gabriel and Hackett involved - until then enjoy this well packaged and enjoyable DVD.
****
Review by Jason Ritchie
***** Out of this world | **** Pretty damn fine |
*** OK, approach with caution unless you are a fan |
** Instant bargain bin fodder | * Ugly. Just ugly
get ready to rock is a division of hotdigitsnewmedia group