A shoal of mixed Fish...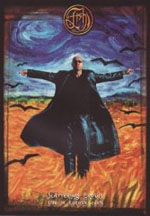 Having recently seen Fish live, and having been blown away by the experience, I was really looking forward to watching these DVD's. Sadly I have to report to being a little underwhelmed, at least by two of the discs.
Kettle of Fish is a collection of promo videos of some of Fish's best known tracks. I have to admit to not being a great fan of music videos as I tend to think that a) they distract you from the quality of the music and b) they tend to be a vehicle for the megalomania of either the artist or the director.
In this case it is certainly the former, as the tracklist is excellent, including such gems as State Of Mind, Big Wedge, Credo, A Gentleman's Excuse Me and Just Good Friends, but the video's have been shot on a really small budget and generally consist of Fish just mucking about doing different things and miming to camera.
You may as well listen to the tracks on your CD player - the sound's better and you can make up your own video from your own imagination. **
Live In Krakow is a recording of an acoustic set from 1995 and suffers from both poor sound quality and that very annoying quirk of some videos in that the sound is a nano second behind the vision, which makes it look a bit like Jethro Tull's famous mime on Top Of The Pops in the early seventies! Having said that, it does have its merits as there are a couple of exceptional performances, from Frank Usher on Kayleigh and Fish himself on The Company - but whether these are worth the investment is debatable. *
The best of the three, by far, is the Scattering Crows disc, a live set recorded at the Town And Country Club in Bradford in 2004. This is obviously a fully digital recording as both sound and vision is spot-on.
The disc gets off to a sluggish start, as Fish was touring the 'Field Of Crows' album at the time, which, I think most fans would agree is not one of his finest, and tracks such as The Rookie, Moving Targets, Zoo Class and Innocent Party are received by the crowd with polite applause rather than riotous enthusiasm.
Things soon kick-off though with Cliché, Vigil In A Wilderness Of Mirrors and Raingods Dancing and come to the boil with a fabulous medley - So Fellini, Lucky, Internal Exile, Market Square Heroes and The Company.
Not as good as seeing the big man live, but a pretty good second-best and certainly better than the plethora of dodgy bootlegs around. ***
Review by Alan Jones