ELVIN BISHOP The Blues Rolls On Delta Groove (2008)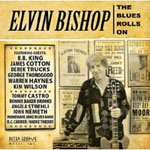 As the title suggests 'The Blues Rolls On', but as the roll call of practitioners is laid out before us on the title track and in the context of a 'bootie shakin' party', only the likes of Derek Trucks, Warren Haynes and Lonnie Brooks offer any sense of the contemporary notion of the genre.
Elvin quickly adds an introductory slide break which is duly echoed by the impressive Warren Haynes, suggesting if nothing else that sparks are set to fly irrespective of chosen material. Blues is no different from any other stand of music in its need to evolve as the gospel feel of the John Nemeth/Angela Strehli duet on 'Night Time is the Right Time' suggests. Nemeth further distinguishes himself adding a fine vocal line to the undulating swing of 'Who's the Fool' with Chris Burns offering intuitive piano fills.
The funky back beat of 'Struttin' My Stuff' comes as close as anything on the album to offering a sense of the contemporary as Elvin raps out his lyrics and musically amplifies his own liner notes, 'It's not exactly blues, but it's a good example of how the music flows from one generation to the next'.
The generational crossover certainly works on a cover of Roy Milton's 'Keep a Dollar in your Pocket' on which BB delivers his signature sound as part of a languid shuffle. Perhaps the most successful aspect of the project is the clever sequencing of various live tracks which showcase Elvin at his best both as a player and catalyst. Thus the rather obvious cover of 'Yonder's Wall' is transformed into a triumphant celebration as a 2007 blues cruise house band including the rasping horn section of Tom Poole on trumpet and Keith Crossen (sax), push the front line players of Elvin, Ronnie Baker Brooks, Tommy Castro to new heights.
Elvin strips things down to a solo distorted guitar and an autobiographical rap on 'Oklahoma' the cornerstone track of the album. This is a real dirt sounding effort that combines his down to the wire guitar sound with musical recollections that takes us through the blues, psychedelic and southern rock The same sort of stripped down feel is embraced by George Thorogood - a disciple of the 'less is more' approach - who teams up with Elvin and Jim Suhler for a live session at the Voodoo Lounge, Kansas City to great effect. The result is a shit kicking, jump blues outing, 'Send You Back To Georgia' that is guaranteed to get any blues party jumping.
The whole thing is nicely topped by a gentle instrumental outro 'Honest I Do' which is punctuated by Bobby Cochrane's startling cymbal splashes. Apparently this album has already been nominated for an award and it certainly has it moments. But while the all star effort doesn't really break new ground, it is nonetheless a timely reminder of how far Elvin Bishop has come since being a rhythm guitarist in the Butterfield Band at the dawn of electric rock and blues all those years ago.
****
Review by Pete Feenstra
---
| | |
| --- | --- |
| | Print this page in printer-friendly format |
| | Tell a friend about this page |