DOMINICI 03 A Trilogy - Part 3 Inside Out (2008)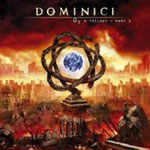 Charlie Domnici has somehow been able to flit in and out of the music business with alarming ease. He first made his name on the 1981 self-titled Frankie And The Knockouts album as a guitarist and backing singer, he didn't reappear until 1989 as vocalist on Dream Theater's 'When Dream And Day Unite' album, then basically that was his lot, that is until this trilogy surfaced. His creative juices were set flowing again in 2004 when he joined Dream Theater on stage for a 15th anniversary performance and since then he has become somewhat prolific.
This, the third of A Trilogy, is musically a follow on from the Part 2 and the 'grande finale' of the storyline introduced in the acoustic first. Vocally Dominici is in fine form, managing to bring David Bowie to mind during the quieter passages of 'So Help Me God', sounding demonic during 'Hell On Earth' yet still managing to scale the heights and power required during heavier moments such as 'Liquid Lightning'.
Displaying range and ability easily equal to that exhibited by his Dream Theater replacement, James LaBrie, he definitely makes you wonder about all those wasted years. As with many concept albums, this is probably best listened to as one complete piece, each track flows effortlessly into the next, the stunning musicianship evident throughout from all members of the band.
Top track on offer for me is the albums epic closer 'Genesis', a rampant celebration of everything great in prog metal. Ever changing moods, powerful and melodic in equal measure, with just enough overblown guitar solos to leave you breathless.
Fans of Dream Theater, no doubt already are aware of his involvement during the Majesty and debut album years will warm to this no end. It's not a million miles away from the melodic tinged, progressive metal, which was their mainstay in those early days.
Citing this set of concept works as the most difficult project he has ever undertaken, he vows 'no more concept albums' One thing's for sure, Charlie Dominici cannot be allowed to simply slip back out of the scene!
****
Review by Dave Hunter
Album review (Part 2)

---
The making of 03 A Trilogy - Pt 3 (Real Audio Player required)
---
Charlie Dominici interview (GRTR! Radio 16.03.08)
Artist website
---
| | |
| --- | --- |
| | Print this page in printer-friendly format |
| | Tell a friend about this page |