Just witnessed your best live gig?..send us a review!
DIO/GIRLSCHOOL
London, Astoria 28 May 2008
A great evening of classic rock at a great venue, with both acts bang on form. Mixing a youthful passion and energy for what they do with maturity and experience in performance, both bands really entertained. And I mean REALLY.

Keen to show off their new guitars, and fresh from the appalling sound at Shepherd's Bush, Britain's longest running all girl rock band (entering their 30th year, would you believe it), Girlschool hit the ground running and, to be honest, have never sounded better.
Between tightness, energy and sound quality at least. Not bad considering that guitarist Jackie Chambers' jet lag was the least of the worries.
Denise Dufort's pounding drums as always opened "C'mon Let's Go", and many a classic followed. For what started as NWoBHM 30 years ago, they still make their brand of rock'n'roll fun, enjoying it as much as the crowd.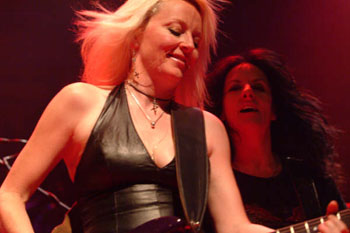 "Hit And Run" is always a favourite, catchy too. Guitarist Kim McAuliffe and bassist Enid Williams shared vocals; how you can sing so well grinning so much at the same time I don't know but they manage it. And it's good to have some banter, interaction with the audience during and between songs too.
"Screaming Blue Murder" featured some fantastic guitar work from Chambers, a definite crowd pleaser.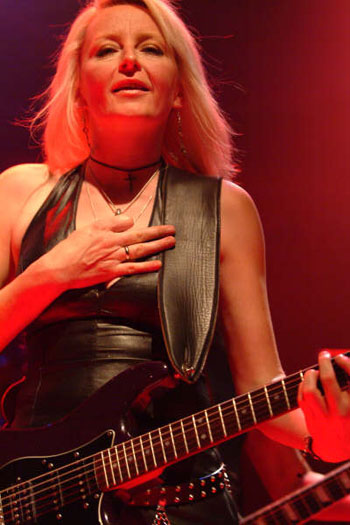 The 11 song 45 minute set concentrated largely on the early 80s; the Play Dirty and Take A Bite albums could be utilised more, as could the equally good more recent material. The crowd did enjoy, however, the new track "I Spy" from the new album due later this year. A little darker it's a damn good song that, on CD, features Ronnie James Dio himself.
The cover of "Race With The Devil" is always popular and "Emergency" finishes the set to a rousing ovation.

Later in the evening the customary hug and peck on the cheek from Jackie Chambers, and she told me more about the new guitars, new album (including recording with Dio and Neil Murray) and her trip to LA.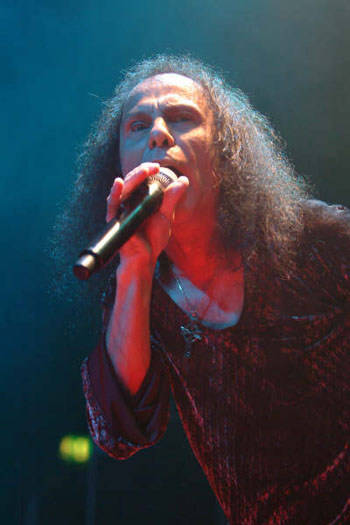 Proof that classic rock is alive and well, this set was storming to say the least. To a backdrop of Holy Diver, Dio the band enter the stage to a roar and kick into "Holy Diver", a riff led metal classic that rocks and more.
Ronnie James Dio proves from the outset that he can still cut it better than most, if not all. His long hair waving, his voice at full power and range.

Not long into the set mentions Black Sabbath, but I didn't catch it all, but given that the set is completely free of any Black Sabbath material, is there a contractual reason? Are Heaven And Hell due to record?

This does give the chance to explore the Dio catalogue beyond the first two albums (both of which anyone reading this should own and adore). So rare outings for "Killing The Dragon", "The Eyes" and "Sacred Heart". The hit single "Rock'n'Roll Children" is another great song.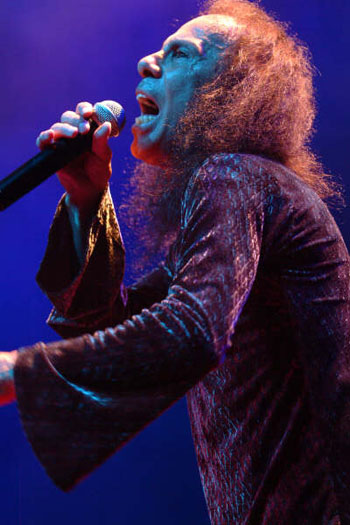 Not long into the set, we get a good, strong and solid drum solo from Simon Wright, which culminates in the 1812 Overture, a nod and tribute to the late Cozy Powell.
Back into the set and Dio is around the stage like a kid, and while guitarist Craig Goldie and bassist Rudy Sarzo are at times a little static, they play their hearts out. You really don't get classic trad metal than this. They keyboard player fits in well too.

Like GIrlschool, the sound is fantastic, as is the mix, the bass and keyboards sounding good. The intro to "Rainbow In The Dark" took me back 25 years.
The Rainbow tracks are welcome too; while "Man On The Silver Mountain" has always been a Dio signature, "Kill The King" you simply cannot do without, and "Temple Of The King" a nice change.

Easy to request more Rainbow and Sabbath, but a damn good set anyway, nostalgia or otherwise.
Review by Joe Geesin
www.joegeesin.com
Photos by Noel Buckley

---
| | |
| --- | --- |
| | Print this page in printer-friendly format |
| | Tell a friend about this page |