DEF LEPPARD Songs From The Sparkle Lounge
Mercury Records (2008)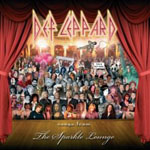 "Songs From The Sparkle Lounge", Def Leppard's 11th - and final - studio album to be released through Mercury Records- is without argument their best since 1987's "Hysteria". After a few listens to the CD I announced to a few close friends that this is the best CD of 2008, and was told that I may be biased.
There is no getting around this fact, I am, - Def Leppard have been one of my favourite bands since 1986 - they got me through my GCSEs, my first sexual escapades, through numerous girlfriends, even more numerous jobs, and even managed to snag me a wife along the way
- and because of this I think I can honestly say that this is the band's best album for years.
On the whole the songs on this CD seem to encompass all the previous highlights of the band's career to date. From the opening track "Go" to the closer "Gotta Let Go" there isn't a weak track to be found.
What you can find, however, are the hooks, big choruses, Leppard backing vocals and two-guitar sound that the band are fondly known for. Rumours of the band taking a country root (a la Bon Jovi) by working with singer Tim McGraw on first single "Nine Lives" were unfounded when after the southern drawl of the first few lines of the song it lets rip like a good `un.
"C'mon C'mon" is a 70's glam style number which also has echoes of "Rocket" to it, whilst "Cruise Control" tackles the problem of religious fanatasists. Slower number "Love" is an epic track, which opens right up to remind us of Queen - a band that Def Leppard are well known to have a love of. "Only The Good Die Young" is a tribute to late Leppard guitarist Steve Clark and "Bad Actress" is a tongue in cheek stab at todays celebrity wannabes - certainly nothing you could ever accuse Def Leppard of being.
"Songs From The Sparkle Lounge" is a great way for the band to say goodbye to their record label after 21 years, multi-million selling albums and tours that still sell out world-wide to this day. With dowloading and piracy the days of selling 10 million copies of an album are well behind us. However, this is an album that no doubt could have provided the band with their latest Diamond Sales Award.
*****
Review by Nikk Gunns

---
| | |
| --- | --- |
| | Print this page in printer-friendly format |
| | Tell a friend about this page |