DAVID GILMOUR Live In Gdansk EMI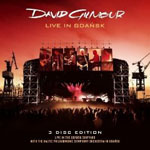 You have to take your hat off to David Gilmour's marketing men. Never can there have been such an abject lesson in how to make such an ongoing packet out of what, let's be honest, is a sub Floyd album.
On An Island - released in 2006 - is a good album, and on a par with David's earlier (and sparse) solo output. Yes, as you'd expect there are moments of brilliance, but overall it doesn't scale the heights that Floyd once reached. But Floyd starved fans lapped it up nevertheless. And rightly so.
The On An Island world tour underlined just how brilliant the man is - there's no question he can cut the ice live, with the combination of his solo and Floyd material making for a perfect evening - wherever you saw him.
In advance of the inevitable live DVD the album was re-released with a bonus DVD of BBC and AOL material plus a teaser for the Remember That Night Live At The Albert Hall live DVD which was eventually released in 2007. For those who saw him and for those who didn't, the sumptuously packaged double DVD was an essential purchase capturing the event perfectly for those with a 42 incher and dolby DTS 5.1 surround sound decoder.
You might have wondered at the time why the DVD wasn't accompanied by a CD release. Well wonder no longer. Leaving it another 12 months, distinguishing from the Albert Hall gig by selecting an overseas gig (the final night of the tour in the Gdansk shipyard, commemorating the 26th anniversary of Poland's 1980 revolution with The Division Bell's A Great Day For Freedom), and adding attractive packaging is going to be too much for the average Gilmour / Floyd fan to resist. Isn't it?
Which is where the marketing team really pull out all the plugs. To make the sure the whole spectrum is captured - here's a wheeze - a budget price double CD release to sway the waverers. But for those with more money (than sense?), a whole suite of variants to choose from - a 2CD and single concert DVD release (but rather naughtily, omitting Speak To Me, Breathe, Time, Shine On You Crazy Diamond, and Wish You Were Here for a 36 minute documentary), a 2 CD / 2 DVD package (the 2nd DVD featuring 'unseen' BBC, AOL and Abbey Road footage, plus 3 new jam tracks), a bumper 3 CD / 2 DVD set (the extra CD features alternative track versions from the European tour), and for those strong enough to lift it, a staggeringly weighty 5 album vinyl set. Only the new Ford Fiesta is likely to offer a wider range of options.
The irony, of course is that David is not renowned for improvisation. That's not to say he never strays from the autocue, but apart from anything else a show of the epic visual proportions of his recent world tour requires the choreography of an Olympic gold medal winning synchronised swimming team. Which is why, if you look at the Gdansk set list and compare it to that from the Albert Hall (or any other venue from the world tour) you will find them virtually identical.
That's no criticism, but what it does mean is that as an alternative to investing in Live At Gdansk, you could just play the Albert Hall DVD without having the television turned on. That may seem a bit obtuse, but the result would be about the same. But no, it wouldn't. Why? Because, hold on, the Gdansk concert was unique in being 'with the Baltic Philharmonic Symphony Orchestra' (conducted by Zbigniew Preisner who arranged on On An Island). That aside you get the standard opening salvo from Dark Side - Speak To Me, Breathe and Time, followed by the On An Island workout, then the 2nd half 'greatest hits' medley. The highlights of which are unquestionably Shine On You Crazy Diamond, Echoes, Wish You Were Here, and Comfortably Numb.
So the burning question is to invest, or not to invest? And that's why you need to take your hat off to the marketing men. It's an attractive looking package, so how can you afford not to invest a tenner? But by then it's too late - you've taken the bait. So why not shell out just a little bit more and get the DVD, or a little more still for some tasty DVD 'extras' not available elsewhere? And for just a little bit more...
And so it goes - but only those who opt for the top of the range model will be able sleep comfortably knowing they've got all the available variants. But then, their wallets will be considerably lighter. So ask yourself, do you really need another version of Comfortably Numb? And if the answer is 'yes' then the GRTR! 'best buy' - for now is the 2CD / single DVD combo. But who would bet against a 'definitive' version sometime in the future that includes the full concert footage on DVD. Perhaps in a year's time when David's bank balance needs topping up?
****
Review by Pete Whalley
---
| | |
| --- | --- |
| | Print this page in printer-friendly format |
| | Tell a friend about this page |