DAVID BOWIE Live Santa Monica '72 EMI (2008)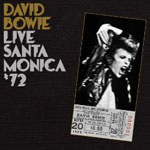 It was with some trepidation I approached this lavishly packaged first 'official' release of Bowie's much-bootlegged 1972 Santa Monica gig.
Because imagine, for a moment, the trauma of reuniting with an old flame after 35+ years - her image cherished over the years - only to discover her curves have now moved to all the wrong places and she no longer has all her own teeth. Some things, as they say, are better left alone.
For me, a gig only six weeks earlier on 4 September 1972 at the Top Rank Suite in Liverpool blew my mind and became the foundation stone of a lifetime's love of rock 'n' roll. I was just 16, my first ever 'real' gig in a small hot club, people packed together - heaving, swaying - the lights go down, the Clockwork Orange soundtrack blares out and the crowd surges as a spike haired, made-up creature in a lurex jump-suit emerges into the spotlight and the Spiders kick in at full volume. It was a defining rock 'n' roll moment and quite simply the best 95p I'll ever spend.
So the dilemma was what would be in this Pandora's box? A reaffirmation? Or would it rock the very foundations of my faith?
The omens looked good. A boxed cover featuring a ticket stub (yes, I still have mine as well), contemporary photo cards and press commentaries, and a neat booklet make this an attractive collector's piece. But never mind the packaging, what about the performance?
Well as any fans will know, Bowie and the Spiders were in blistering form around this time. And there's enough BBC and other sessions available to confirm that, so the only lingering doubt in my mind was 'If it's that good, why has it taken 35 years to sanction an official Bowie endorsed release?'
But the prevarication had to end so, heeding the advice on the back of the original Ziggy Stardust album sleeve 'To Be played at maximum volume'; the needle finally hit the groove (figuratively speaking).
And what can I say? Fans will of Hunky / Ziggy era Bowie will not be disappointed. It's what rock is all about and that is raw, unchoreographed and spontaneous. OK, it may not be note perfect and there may be a few missed words but it make's today's arena acts seem sterile by comparison. My only complaint - if you do turn it up loud, there's a fair amount of tape hiss that you'd think they could have remastered out. But that's only a minor niggle.
****
Review by Pete Whalley
---
| | |
| --- | --- |
| | Print this page in printer-friendly format |
| | Tell a friend about this page |