DAN CRISP Far From Here 1954 (2008)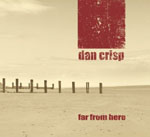 'Far From Here' is an impressive calling card from Dan Crisp a song writer of some substance. Strong on melodies, confident of voice and with some attendant acoustic sweeps, Dan comfortably fits into the popular contemporary acoustic pop niche that is currently finding favour on the radio.
And you need not look much further than either the impressive opener 'Hollywood' or indeed the radio friendly title track to realise that there is potentially a big market for both Dan's lyrical reflections and his warm expressive voice.
'Hollywood' opens with an urban background of police sirens and the polar opposite wistful feel of a delicate piano line, the perfect opening for a sensitive story teller with an album full of impressive songs.
What makes 'Far From Here' that little bit different from many of the other contemporary crop of singer song-writers is both the musical variety, the little unexpected instrumental flourishes, some impressive album sequencing and the simple e ngaging nature of the songs.
On the beautifully crafted 'Shine on Me', Dan's soaring voice is matched by some lovely violin work by Chris Leslie who also adds some Celtic sounding mandolin on 'I Could Love Someone'. Dan toughens things up on 'Poor Man Richer' which will come as something of a surprise to those unsuspecting listeners suckered into Dan's acoustic singer-song writer veneer.
As Dan himself sings on that track, he's 'always looking for something' and in many respects that nicely summarises the dozen songs that find their coherence as a whole.
Just over the halfway mark, Dan delivers one of his best songs the self explanatory' 'Find Yourself' which nicely bottles his talent in the space of little under 3 minutes. Perhaps the biggest obstacle Dan faces in these post Cold Play times is finding the sufficient radio support to lift him above fellow contenders. But on balance 'Far From Here' offers enough excellent songs and different musical textures to achieve that aim.
Some songs like 'Beautiful and Deadly and the quite superb closing track 'A Light That Never Fades' almost creep up on you surreptitiously but once they hook you they never overstay there welcome.
In sum, 'Far From Here' has many interesting musical moments and 'A Light That Never Fades' is in fact magical ending to an impressive album.
****
Review by Pete Feenstra
---
| | |
| --- | --- |
| | Print this page in printer-friendly format |
| | Tell a friend about this page |