2003 jazz funk masterclass...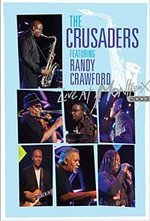 If we're all just coming to terms with the concept of rock as heritage music then imagine what a crossover jazz/rock fusion outfit like The Crusaders has to teach us.
Formed circa 1960 and featuring founder member Joe Sample on electric piano and Wilton Felder on sax, The Crusaders long ago dropped the jazz part of their name, albeit it was resurrected in the mid 90s' during a temporary split in the ranks.
Over the years the band have undergone stylistic changes, radically shifting from their early 60's Hard Bop origins to finding their niche in a funky jazz fusion cross over style in the 70's. They further added soulful touches in the 80's when Sample teamed up with the prolific Will Jennings (he also collaborated with Steve Winwood, Frankie Miller, and Joe Bonamassa) and achieved real commercial success with 'Street Life' in the company of vocalist Randy Crawford, who guests on four songs here.
Like so many fusion bands from the 70's The Crusaders star dipped, but on the evidence of this spirited 2003 Montreux appearance they seem to have finally come out the other end none the worse for their 40+ years on the road.
Indeed there's an eloquence to much of their playing borne of experience, creativity and Joe Sample's endearing love of music. Listen for example to the 2003 version of 'Hard Times' as opposed to the synth led 1976 bonus track. The edgy jam band of the past has turned into more mature combo in which everyone is aware of their strengths, but without the need to prove it on every solo.
The current band pays more attention to the arrangements and works on the melody of a song. And in Ray Parker Jr. they also have a tasteful guitarist who solos eloquently when required but is just as happy to drop in the rhythm guitar spot. Ditto the tenor/trombone front line of Wilton Felder and Stephan Baxter who work along side Joe's delicate electric piano lines on several mellow grooves.
This contrasts sharply with the bonus track outings on which guitarist Larry Carlton and explosive drummer Stixx Hooper (who dominates his kit) sound as if they are about to take off at any moment. Of course the 4 bonus tracks are an exciting clip from a different era but the Crusaders 2003 vintage, employ a slightly more circumspect approach by gently building up the groove and teasing out the nuances.
'Live at Montreux 2003' is an excellent set that neatly dips into different parts of the bands long career from working up a nice heady of steam on the newer 'Viva Da Funk' to revisiting older classics like 'Way Back Home', while Joe Sample excels on one of the band's magnificent career highlights 'Put It Where You Want It'. Randy duly takes her spot and the band stretch out on her well received cameo 'Street Life' before she phrases beautifully on BB Kings 'The Thrill is Gone' and brings her own feel to bear on John Lennon's 'Imagine'.
But it's heartwarming to know that one of the best numbers of the night is the title track of the 2003 album 'Rural Renewal' which showcases some lovely interplay between Sample and bass player Freddy Washington. Parker closes the show with his own call and response chart busting 'Ghost Busters', and the four bonus tracks offer a belated historic perceptive, of a band already some 16 years into their current 48 year career. Not so much a band perhaps as a dynasty.
*****
Review by Pete Feenstra