Just witnessed your best live gig?..send us a review!
CHRIS DUARTE
Boom Boom Club, Sutton, Surrey, 6 April 2008
When they come to write the great book about guitar players there will surely be a place for Chris Duarte. Surely there can be few other players on the planet who can combine such startling energy levels with outrageous creativity and notes to match. Not for nothing has this Georgia based Texas guitar slinger been described as the 'John Coltrane of the guitar'. The reference primarily focuses on his long meandering and at times eclectic solos which often teeter on the brink but ultimately being home the bacon.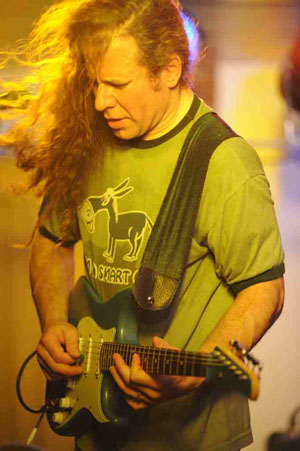 Photo: Nick Rabett
It's not just the sudden rush of notes with his guitar neck pointed at 45 degree angles to himself, nor even the repeated shakes of his long haired mane as he teases out yet another tone inflection that make him different. No, what distinguishes Duarte from the pack is his absolute need to remain unfettered in his exploration of his chosen instrument.
Much like Coltrane's experimentation with tone textures and his weaving in and out of arrangements, so it is with Duarte whose flights of fancy on his guitar sometimes left his rhythm section trailing. But he does have the sense of discipline to build bridges back to the starting point from where he once again picks up the thread with the rest of the band.
On 'Something Wicked' he brought whoops and hollers from the crowd as he explored the outer limits of his playing within a blues framework. The other thing about Chris Duarte is that his expansive solos and jazzy flurries aside, he sometimes opts for altogether simpler grooves which are built on the back of some funky rock steady outings and deep blues. And while some of his songs don't always immediately fit the mould, he's the kind of player who effortlessly touches base with say Hendrix in terms of experimentalism, Steve Ray in terms of tonality and Johnny Winter in terms of lightning fast note flurries and a trademark growl.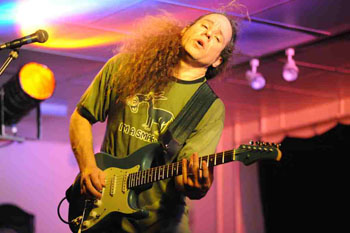 Photo: Nick Rabett
On the heavy duty, big toned and hard riffed 'Sun Prairie Blues' for example he emulated the likes of Walter Trout and Robin Trower in tough rock blues setting. And somewhere between a battery of intense audience draining guitar overdrive he proved he could rock out with the best of them or effortlessly slip into a God-given shuffle as on 'Hard Mind' on which his estimable rhythm section of Joseph Patrick Moore on bass and Jeff Reilly on drums pushed him all the way.
In between times he came up with a brief intro in Spanish and the seemingly usual, 'great to be in the UK' line, before offering the startling revelation that he needed to discuss the language of Shakespeare - 'I just love the cadence of his language'. And barely pausing for breath he powered into a spontaneous opening that took the band into another muscular funky groove.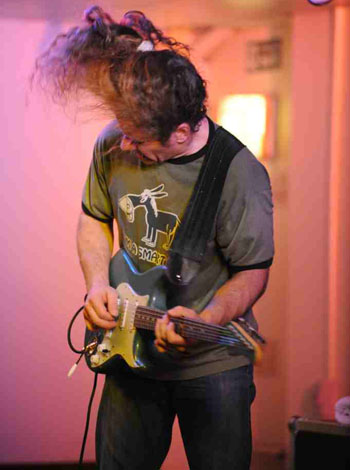 Photo: Nick Rabett
By the time of an explosive final number, Chris had let his hair loose, and headbanged with the best of them while playing some of the most exceptional guitar it's been my pleasure to witness in years.
The standing ovation at the close of the show suggested everyone at the Boom Boom Club thought so to.
*****

Review by Pete Feenstra
Photos by Nick Rabett

---
| | |
| --- | --- |
| | Print this page in printer-friendly format |
| | Tell a friend about this page |