CHINA BLUE Twilight Of Destiny Frontiers (2008)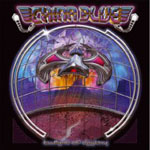 This band dates back to the late 80's when keyboardist Eric Ragno (Takara/Ted Poley/Danny Vaughn/Vox Tempus et al) started China Blue with his best friend Tom Gasbarro. Eric wrote the music and Tom was the lyrical engineer but then Vox Tempus took off and it wasn't until he played some of the old China Blue demos to his friend Michael Riesenbeck that Michael encouraged Eric to take the best out of the songs and add new material to round out a complete album.
Joining Eric are Tony Mills (TNT/Shy), Josh Ramos (The Storm/Hardline) on guitars with Ronny Smith (rhythm guitars), Doug Oudell (bass) and Zane Petersen (drums) - Eden's Curse drummer Pete Newdeck helps out on few songs as well. On the mixing desk is another 80's stalwart JK Northrup.
From the cover (very Journey like) through to the music this is pure 80's AOR/melodic rock with modern production. Revel in the guitar solos on 'Changing Ways', very Toto like or the sheer catchy melody of 'Don't Be A Stranger', featuring an ultra tight rhythm section. The slower numbers like 'Changing Ways' have such a lush musical backdrop that keeps the listener intently listening throughout.
Tony Mills suits the music down to a tee and sings in his more melodic style - only one thing there could have been more of are harmony vocals on the choruses but that's maybe just my own love of all things harmony related! The good thing about the music on here is it doesn't try to be a Journey clones, in fact the music is closer to the 80's output of Toto or Valentine.
Two instrumentals on here, the short 'Twilight Of Destiny' where the keys do battle with the guitar and 'A Last Goodbye' on which Josh Ramos lays down some very mellow guitar backed as ever by the keys of Eric Ragno.
Unlike some 'lost' albums that are best left lost China Blue's is certainly worthy of this overdue release and is a 'must have' for lovers of 80's tinged AOR/melodic rock.
****½
Review by Jason Ritchie
Interview
---
| | |
| --- | --- |
| | Print this page in printer-friendly format |
| | Tell a friend about this page |