BRIAN AUGER'S OBLIVION EXPRESS
Looking In The Eye Of The World/Live At The Baked Potato
(2CD, also DVD) Yellow / SPV (2008)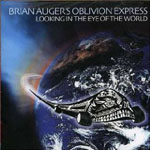 Noted Jazz pianist and Hammond B3 innovator Brian Auger has been recording solo and with others for many years now, even having a hit with "This Wheel's On Fire". He formed Oblivion Express in the early 70s and resurrected the band in 2005 for Looking In The Eye Of The World, the title track rerecorded after writing it in 1969.
The music can be best described as painful; jazz fusion without guitars (and thankfully without all those anal guitar solos) with a touch acid jazz (remember that vomit inducing craze?).
Alongside Brian are vocalist Svannah Grace Auger (daughter) and drummer Karma Auger (son) and bassist Chris Golden, with plenty of brass too.
At its most bearable, it's Keith Emerson in jazz (club) mode, at its most innocuous it's coffee table / lift music jazz, but the rest of it is just too hard work. **
The 2-CD Live At The Baked Potato set is an intimate live affair at this little known Los Angeles club. Two discs of keyboard led jazz fusion and some lengthy workouts. The set opens with Brian introduction of bassist Derek Frank (and his 'Flashing Fingers') and offspring Svannah and Karma (the latter responsible for organising the whole DVD recording).
"Truth" is a rocking number, with nods at ELP and Jeff Beck, but "Freedom Jazz Dance" is a touch funky and as annoying as it sounds. "Indian Rope Man" and "Bumpin' On Sunset" both drift well past the 10 minute mark.
The evening's show was split into two sets, the second kicking off with another introduction and more lame jokes, before the spooky jazz of "Don't Look Away, Look Around". The cover of the Doors' "Light My Fire" is strange, as although the vocals are strong, the arrangement is more easy listening jazz, the pace slow, the power high. The melody is lost in the widdly work-outs.
And at just passed midnight it becomes Brian's birthday so Karma leads the crowd in a very out of tune sing-along.
The DVD is well recorded, a good record of the moment, but the affair is for fans only, especially if you were there; but if your interest is keyboard led jazz fusion with strong female vocals, the CD is a better bet. ***
Review by Joe Geesin
www.joegeesin.com
---
| | |
| --- | --- |
| | Print this page in printer-friendly format |
| | Tell a friend about this page |