Star-studded celebration of a musical life...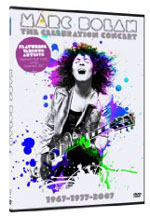 In September 2007 Marc Bolan would have been sixty and to commemorate the occasion - and the thirtieth anniversary of his death - there was a celebration gig at Shepherd's Bush Empire in London.
The gig brought together a number of performers who had been inspired by or who had worked with Bolan.
The tribute band T-Rextasy held everything together, and we got turns from Marc Almond (whose biggest hit was 'Tainted Love' originally performed by Bolan's partner Gloria Jones), Linda Lewis (a seventies kindred spirit), and Ray Dorset (Mungo Jerry). And the presence of veteran producer Tony Visconti lent a certain gravitas. One of the highlights was his arrangement of 'Cosmic Dancer' featuring all-girl troupe Dirty Little Strings.
This gig reminds us of the rich musical legacy, and Bolan's lasting influence on visual pop, and an appearance by Gloria Jones lends poignancy as it was she who was with Marc on that fateful night in 1977. Unfortunately Bolan's son Rolan was unable to make the gig because of travel delays.
We also get contributions from Andy Ellison (from Bolan's pre-fame John's Children) and support from Clem Burke (Blondie) and session veteran Howie Casey.
Ultimately, though, this celebratory circus reminds us of a golden age of televisual pop when Bolan was comfortable both as a TV performer and raconteur, and a time when he frequently graced the music mag covers along with Bowie.
***½
Review by David Randall