BOB BROZMAN Post Industrial Blues Ruf (2007)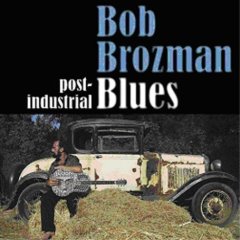 I always thought that Bob Brozman was a dish best served live. He's always been a superb live musician, but I often thought that he didn't really achieve any consistency on his albums - perhaps a little too much ethnicity, perhaps a little too much Hawaiian ukulele, I don't know.
However, on Post Industrial Blues, his second outing for Thomas Ruf's label, Bob's really gone back to his own roots in acoustic blues and has produced an absolute gem of an album. If you're a fan of the traditional blues guys (especially the likes of Lightnin' Hopkins, Big Bill Broonzy and Robert Johnson) complete with finger-snapping guitar playing, you'll absolutely love this.
That is not to say that this is a traditional blues album - far from it, Brozman tackles major contemporary themes (The New Orleans flood, George Bush, the Iraq War and even fast food), but makes them sound like the aforementioned greats had come back to haunt us. And haunting is a good word to use - a number of tracks (Look At New Orleans, Lonely Children and Three Family Blues) have a distinctly scary edge to them, with unusual instruments, and Bob's ability to get the most out of them, creating a real atmosphere.
It's not all doom and gloom though - the blues rarely is. There are plenty of tracks to get you jigging about, singing along, even laughing and, just as a little extra, there's even a great cover version of The Doors' 'People Are Strange'.
What really hits you throughout this album though are two things: one is Brozman's absolute mastery of all things stringed, be it a National Reso-Phonic Steel Guitar, Dobro, English Seven Stringed Banjo (!) or even an Indian Chaturangui (apparently a 22 stringed slide guitar) and two, the superb quality of the recording that really leaps out at you from the speakers.
For lovers of all things bluesy this is highly recommended. The array of instruments infuse the music with a nuance of multi-culturism - integral to today's sound. And the sheer all-round talent of the guy when compared to the stultifying mediocrity of so much of the musical pap around at the moment, simply dazzles.
****
Review by Alan Jones
---
| | |
| --- | --- |
| | Print this page in printer-friendly format |
| | Tell a friend about this page |