Just witnessed your best live gig?.. send us a review!
BETH HART
The Fly, New Oxford Street, London, 6 October 2008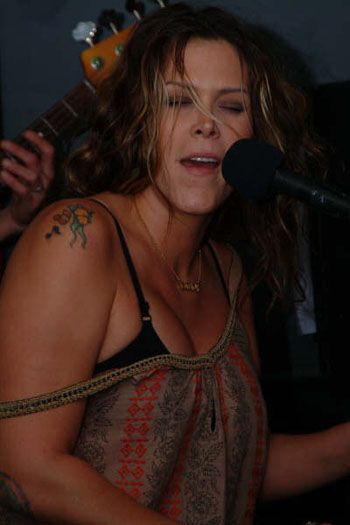 The electric atmosphere of the intimate Fly club in London's New Oxford Street might momentarily have convinced LA rock chick Beth Hart that she was actually playing a much bigger venue. Such were the cramped conditions that the front line mix of rock fans, invited media and gay women added a new meaning to the term 'in your face'. And while the crowd's collective roar might specifically have put her in mind of her Dutch success at Amsterdam's Paradiso, a performance such as this suggest it won't be long before she enjoys a requisite higher profile in the UK.
If anything Beth revelled in the close proximity of her admirers never wasting an opportunity to engage the crowd in a mix of banter, invitations to yell back at her and eventually dominate the stage much like Julie (Lewis) & The Licks.
No big surprise really because at first glance Beth is the latest female performer with a big voice from the LA conveyor belt of artists who have lived life on the other side of the tracks. She's had a minor hit, come out rehab, given up smoking, started again, and thinks nothing of name checking her spouse from the stage as her guiding light.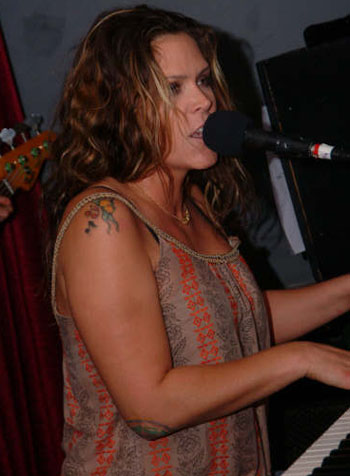 It might all have got just a tad wearing were it not for the fact that she delivered a bunch of credible, passionately delivered songs recalling the highs and the lows of relationships, self abuse, and the like. What distinguishes Beth is both her very physical stage presence, her soulful, breathless rock meets blues vocal style, and the fact that her songs never flinch from exploring the constituents of her own psyche. When she did step outside her own back catalogue it was with a couple of judiciously chosen covers that perfectly showcased her powerful, emotive voice.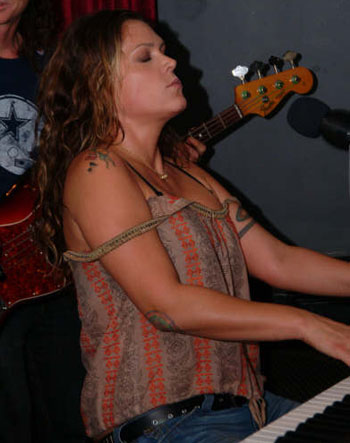 Thus Govt Mule's 'Soulshine' (written by Warren Haynes) oozed honey while her Janis Joplin style reading of Zeppelin's 'Whole Lotta Love' had the whole room at fever pitch. Her own songs shifted from standard tough rockers such as'Sick' - a caustic put down of George Bush - to 'a girlie' song whose title I missed but which certainly hit the mark with her core female audience.
Then there was the radio friendly single 'Good As It Gets' which was predicated on a great hook. Best of all was the outstanding rocking end piece 'One-Eyed Chicken'. And when after moving into the home straight of her hour long set she told the audience 'You kick ass', no one was about to argue with her.
Review by Pete Feenstra
Photos by Noel Buckley
---
| | |
| --- | --- |
| | Print this page in printer-friendly format |
| | Tell a friend about this page |