More from the Fab Four...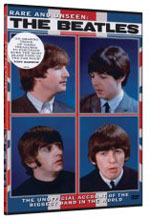 'Rare and Unseen: The Beatles' is the latest in a long line of 'scissors and paste' style scrapbook accounts of the early Beatles career on DVD.
'Rare & Unseen' claims to be 'The unofficial account of the biggest band in the world' but does little in the way of defining exactly what the account is about, other than an aggregation of previously unseen clips of the band.
There's a partial attempt to map out the rise of the Fab 4's early career through photos, film clips and a number of smartly edited interviews including some John Lennon comments taken from a 1975 French TV interview. The former Fab 4 press officer Tony Barrow (who provides some enlightening liner notes to the project) proves to be the most lucid voice among a cast list that includes producer Norman Smith, promoter and former tour manger Sam Leach, Allan Williams - the man who gave the Beatles away - also Gerry Marsden, Liverpool contemporary Tony Bramwell and even the Quarrymen's first drummer Colin Hanton.
Refreshingly the project does benefit from some semblance of research as the curious choice of celebs Phil Collins and Steve Harley aside, there are some interesting recollections from former French rock/pop star and former Mrs Johnny Hallyday Sylvie Vartan (spelt Varten on the DVD case) and former Trini Lopez drummer Mickey Jones. Both appeared on the bill with The Beatles at the Olympia in Paris in 1964, the very time when Beatlemania first hit France and just before their Ed Sullivan show appearance in the States.
But a few gentle collections aside, there's very little analytical substance here save for Tony Barrow's view that the Beatles split was actually a positive thing as they had done all they could do as a band. But you don't have to go much further than the title to find the real sales pitch of this DVD. And in truth there a few magical moments, most notably Ringo's home movie account of the band's trip to the Channel Islands, the aforementioned footage ofthe Paris Olympia show plus a handful of digitally restored early clips.
Given the obvious premise that any new footage of the Fab 4 will be of interest, this DVD will hold some curiosity value for all fans. And if you can overcome the American introduction of 'The Beadles' and the fact that each segment is interrupted by pauses to advertise the very product you are already watching, then you may wish to purchase. But I suspect that the handful of original clips will not really be enough for the many of us who were hoping for something a little more weighty.
***
Review by Pete Feenstra