APPEARANCE OF NOTHING Wasted Time
Escape Music (2008)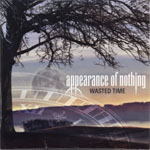 As soon as I read the two words, 'very symphonic' on the label's provided information sheet, my eyes light up.
But this can be a doubled edged sword, for every decent symphonic metal band, there are three not so good one's.
Pressing play, it's immediately obvoius that AoN, are probably more progressive than symphonic.
'Wasted Time' is the debut album from the Swiss rockers, who have existed in varous formats since the 1990's.
Of course Dream Theater come to mind, but when you hear progressive metal, then that is almost instantanious when you hear these type of sounds.
AoN certainly have the musical ability, but can they pen a decent tune or two?
A resounding yes is the answer to that question!
The album contains plenty of diversity, something that I welcome, in an age where most albums I hear are extremely one dimensional.
Great musicianship for sure, the weak link here is the vocals.
I cannot quite put my finger on just why, perhaps it's my taste?
Of course every prog metal album has to have the obligitory epic song, and here we have the 14 minute, 'The Science Of Light'.
This is where AoN, really come into their own.
Long songs don't always equate to good songs, fortuneately this one is a real belter.
Made up of three movements, this really is the albums highlights for me.
A promising start.
***
Review by Graham Boyle
---
| | |
| --- | --- |
| | Print this page in printer-friendly format |
| | Tell a friend about this page |