ANCARA Beyond The Dark Metal Heaven (2008)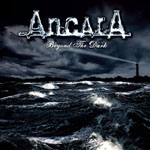 Finnish power metallers Ancara are a new name to me but according to their press release have caused quite a stir in their home country.
This, their second full length release, is a satisfying mix of aggression and melody. The guitars joust like Judas Priest, Queensryche or even Q5 in places, while singer Sammy Salminen has a brooding, menacing voice full of controlled power, not unlike Ronnie James Dio in places.
The downside is a lack of memorable hooks to polish off otherwise solid songs, not helped by a personal bugbear - songs with entirely different titles to what the chorus might suggest!
Belatedly things come together with two epic songs near the end, In Silence and six minute bonus track The World. The other bonus track is a live version of Burn in Hell, which I assume comes from their debut album. That is in a more basic and angrier style owing more to the likes of Pantera, and the rest of the CD marks a quantum leap forward in maturity, which can only be a good omen for the future.
***½
Review by Andy Nathan
---
| | |
| --- | --- |
| | Print this page in printer-friendly format |
| | Tell a friend about this page |