AMON DUUL II Reissues SPV (2008)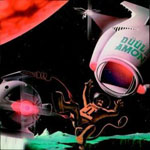 The formation of Amon Düül in the late 60s, the commune and the split into two factions, is a complex story beyond the realms of this review, suffice to say the name comes from the Egyptian god Amon and a Turkish character Düül.
Amon Düül would become synonymous with Krautrock and psychedelic prog rock.
As 1974's Hijack shows, there's a strong unit here. Melody aplenty, and a strong prog feel. Equally, late 60s pop a la Pink Floyd and The Beatles comes through, and there's a touch of Captain Beefheart and Velvet Underground too. With varied vocals, twin guitar, keyboards and more you get a big sound. Guitarist Chris Karrer also provides violin and saxophone as well as vocals to balance Renate Knaup, drummer Peter Leopold also plays acoustic guitar and bassist Lothar Meid also adds vocals, guitar and string arrangements.
Unlike many fusion angles, this doesn't sound disjointed; through atmospheric sounds to the uptempo melodic pop of "You're Not Alone", the melodies and rhythms match. "Archy The Robot" also nods at "Urban Spaceman" territory, which balances the darker prog well. ***½
All change for 1975's Made In Germany, a concept album of sorts; shenanigans with line-up changes (prior to the recording and after the tour), an American tour of mixed fortunes and mixing of the LP in the band's absence. The set kicks off with the orchestral "Overture", it's then into uptempo prog with "Wir Wollen" and "Wilheim, Wilheim", the latter with a 60s vocal feel and heavy orchestral bursts.
The music here is surprisingly heavy in places, while still mixing prog with a psychedelic feel.
Many explore an idea briefly and stop; only two tracks breech the 6 minute mark, just.
"Elevators Meet Whispering", running at a minute and a half, is a little jangly with the guitar sound. The following "Metropolis" is a heavy pop song with both feet both firmly in the 60s.
A rock opera that didn't work as well as it could or should have. ***
1976's Pyragony saw a much changed and stripped down line-up. While the psychedelic and prog influences were still there, it was a much more straight rock album than before. No female vocals here, some straight rock guitar and piano, there is however a nod at Steppenwolf (thing The Second rather than Born To Be Wild). Not classic Amon Düül by a long way, but probably more accessible to the casual rock fan. In many cases a typical mid 70s set with untypical influences. ***
All are well presented, although the extensive sleevenotes I found hard to read, the translation from German not always producing a fluid essay. ***½
Review by Joe Geesin
---
| | |
| --- | --- |
| | Print this page in printer-friendly format |
| | Tell a friend about this page |