AMASEFFER Slaves For Life Inside Out (2008)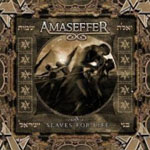 This is an ambitious musical concept recounting the story of Moses and the exodus from Egypt. The band hail from Israel and feature drummer Erez Yohanan and guitarists Yuval Kramer and Hanan Avramovich. On vocals they have roped in the impressive talents of Mats Leven (ex-Malmsteen) and Arch Enemy's Angela Gossow pops up to add her distinctive vocals on the epic 'Midian'.
Musically they wnated to create a cinemtic soundscape and they have easily achieved this aim. The music can sweep along majestically on pomp filled keys and strings before switching effortlessly into driving progressive metal. The biggest 'hook' if you like to help this release stand out in a crowded field is the clever use of Middle Eastern traditional music. Crimson Glory did try this on their album 'Transcendance' but didn't quite pull it off unlike Amaseffer who do so brilliantly as they meld the music around it rather than add it as ab extra thought.
The whole album runs seemlessly and as such there are no real stand out tracks, just lots of varied and fascinating musical avenues the listener is taken down. But if I had to pick a song to sum the album up it would be the epic 'Midian' whihc has the metal edge, the pomp meets prog backing and some wonderful backing vocals.
I don't know how Inside Out keep finding all these great new bands but long may they continue and in the meantime get this album pronto. Cineamtic progressive Middle Eastern pomp metal anyone?
****½
Review by Jason Ritchie
---
| | |
| --- | --- |
| | Print this page in printer-friendly format |
| | Tell a friend about this page |
***** Out of this world | **** Pretty damn fine |
*** OK, approach with caution unless you are a fan |
** Instant bargain bin fodder | * Ugly. Just ugly
get ready to rock is a division of hotdigitsnewmedia group