ALICE COOPER Pretties For You/Easy Action Rhino (2008)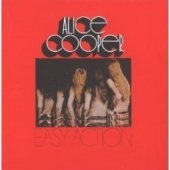 No one was a bigger Alice Cooper fan than me back in the early 1970s. I can still remember the day in 1972 that I first heard Killer - the needle hitting the vinyl, the screaming guitars, the pounding drums and those snarling vocals. It was unpolished, raw and unlike anything I'd heard before. I was hooked and it was the start of a love affair with Alice that has lasted to this day.
At that time there was no back catalogue available in the UK, Love It To Death another classic, not making its UK debut until late 1972. But a double album of the first two AC albums Pretties For You (1969) and Easy Action (1970) did eventually surface. It was acquired (naturally) but equally quickly discarded.
Because neither of these earlier albums are anything but 'work in progress. At the time they were signed to Zappas Straight label, the band were known as the worst in LA. And Pretties For You demonstrates why. Its a poor pastiche of the Beatles circa Being For The Benefit of Mr Kite, the Byrds and the Doors delivered none too convincingly. Of interest though are Swing Low Sweet Cheerio which hints at the sound that was to emerge on Love It To Death, and Reflected a song that was later dusted down, re-buffed and released as Elected.
Easy Action was a little more cohesive, but did little to dispel the band's poor reputation. Then, and now, it serves as little more than a curiosity. Still very rough and ready lacking the focus that Bob Ezrin brought to the party it again supplies a couple of signposts Still No Air nods towards Halo of Flies and lay Down And Die, Goodbye at Is It My Body.
So while of interest to those of an inquisitive nature, these are, I am sorry to say, little more than curios and recommended for the indulgence of completists only.
**
Review by Pete Whalley
---
| | |
| --- | --- |
| | Print this page in printer-friendly format |
| | Tell a friend about this page |