Artist formerly known as Cat Stevens...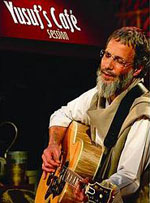 Yusuf Islam, the artist formerly known as Cat Stevens is not only a rare musical talent but as this in depth DVD suggests, he is a man of deep thought and enduring philosophy. And unlike most of the commercial DVD's on the market Yusuf's 'Café Session' includes not only his musical comeback after nearly three decades away from the music biz, but also a revealing BBC documentary and an interview about both his life and the new album.
For whatever you may think about Yusuf's faith and his commitment to both humanitarianism and education, it is his music that towers above all else. And while it is obviously rare for such an articulate singer song writer to return to his muse after such a long break, Yusuf is clear as to the motives of his return. As he succinctly concludes in the interview section of the DVD; 'you can argue with philosophy but you can't argue with a good song. And I think I've got a few good songs'.
As if to amplify the point, the majority of the songs from his new 'An Other Cup' CD are on a par with his impressive back catalogue. The thing that distinguishes the newer material is the sense of a mature song writer for who no word is ever wasted. And if it literally took a leap of faith to re-find his voice, then we should be grateful, for Yusuf Islam's music reflects the personality of a man whose lifetime spiritual quest is both played out through his music, and is superbly documented here.
But first to the Porchester Hall concert. If you ever needed further proof of the power of the man's songs then look no further than the purple hazed room full of sparkling chandeliers, mock palm trees and a well heeled multi-cultural audience. On the podium is a superbly drilled band, all dressed in black, and intuitively attentive to every musical nuance. And right in the middle of all this splendour is the man himself with ethnic robes, a white shirt and jeans. In between the songs you can hear a pin drop, and given Yusuf mainly restricts himself to thanking the crowd, it is his words that carry the day.
The new album is well represented with six outings, of which the timely spiritual 'Wind East and West', and a song of hope, 'Maybe There's A World' are highlights. The equally plaintive 'The Little Ones' was originally written about the Bosnian conflict and the altogether tougher, almost funky 'I Think I See The Light', is also the kind of song that could only be written by someone on a lifetimes quest to both make sense of his experiences, while simultaneously hoping to share his belief in a higher power.
This is particularly so on 'Heaven, Where True Love Goes', a song whose undoubted spiritual sentiments don't quite save it from a MOR torpor. But the still relevant 'Peace Train', a new version of 'Wild World' - complete with two verses in Zulu - and the timeless 'Father and Son' clearly set out the standards that he set himself all those years ago, and that he now emulates with a fresh vitality.
Yusuf even throws in a blues 'How Long/Peace Train Blues' on which his beautiful emotive phrasing is only slightly tempered by a surprising lack of swing from the rhythm section. But that is a minor quibble, for this concert like the excellent 'A Few Good Songs' interview with the sympathetic but consistently analytical Alan Yentob is everything long time fans would want. The additional video footage gives a welcome audio visual contextualisation of a career stretching back to the late 60's.
The final section features a kind of Yusuf direct to camera cinema vérité, and just like the whole of this project it is both honest, and surprisingly revealing as it is stylish.
****
Review by Pete Feenstra