WHITESNAKE 1987 Universal Special Edition (2007)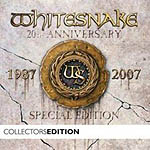 It's hard to believe that it's two decades ago that David Coverdale, at the flick of a wrist, reinvented Whitesnake from a blues/rock outfit into a global dominating rock bemoth. But the maths is undeniable, as is the luxuriousness of this 20th anniversary collectors edition.
The album was, of course a watershed - the bringing together (and equally quickly disbanding) of John Sykes on guitar, Neil Murray (bass) and Aynsley Dunbar (drums). It was also the band's debut on Geffen with an agenda aimed fairly and squarely at the American rock FM audience.
Conceived principally by Coverdale and Sykes the album was built around four classic tracks - Still Of The Night, a re-working of Here I Go Again, Is This Love and Give me All Your Love. But it wasn't an album delivered without complications. For a start Coverdale underwent nasal surgery, the band was hired and fired, and Nigel Olson was brought on board in the final furlong to rescue the project by polishing up the production and adding some fresh vocal takes and guitar overdubs.
But the result was an album that has more than stood the test of time, sounding as fresh and vibrant today as it did 20 years ago. It was released at the cusp of the MTV video era and spawned four titillating videos - featuring Coverdales' bride to be Tawny Kitaen - that summed up the era perfectly. The album took off like a space shuttle.
Criticised in some quarters for being too overtly commercial, you realise on revisiting the album just how seminal it was. The 2007 remastering job is nothing short of incendiary - the album sounding as if it was recorded only yesterday. And it wasn't just about the aforementioned tracks. Also featured are Bad Boys, Looking For Love, Crying In The Rain, and You're Gonna Break My Heart Again - all staple Whitesnake crowd pleasers. There isn't a duffer in sight.
And the sumptuous special edition, for your pleasure, includes bonus versions of the four central tracks. On the CD, taken from the current Live: In The Shadow Of The Blue album, and on DVD in the form of the four videos that got massive airplay on MTV (well worth having) and the performances from the excellent Live: In The Still Of The Night DVD.
Which makes it just about, perfect. 'Are you ready to rock? Are you ready to roll?' You f--kin' bet!
*****
Review by Pete Whalley

---
| | |
| --- | --- |
| | Print this page in printer-friendly format |
| | Tell a friend about this page |