Cleaned up classic Lizzy...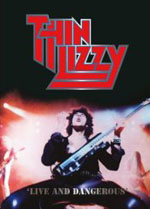 Thin Lizzy's profile has been kept alive in recent years, not least with many of the 90s metal bands paying their dues to the band's twin guitar legacy. As Scott Gorham told us recently (in an interview to be broadcast on GRTR! Radio on October 14) Lizzy didn't really invent the twin guitar harmony sound but they did add a melodic rock twist to it.
Scott Gorham was understandably cautious when approached by Universal to reissue the Live and Dangerous Rainbow gig originally released at the same time as the classic 'double' album of the same name in 1978.
Whilst the film quality and certainly the sound has been improved, in truth it suffers from the usual shortcomings of seventies film stock and filming techniques. I understand, also, that the original multi-track audio wasn't available. It is, though, unique as a visual account of a band at the height of their powers.
This reissue is bolstered by the very useful inclusion of a later gig, filmed by the BBC as part of the Sight and Sound series when the band were promoting their last studio album, 'Thunder and Lightning'. If Lizzy had already peaked, it does highlight the start of the Sykes-Gorham partnership which continues, and the contribution from Darren Wharton who has appeared in some of the latter-day band revivals. I last spied Darren in a semi-cabaret setting at a bar-restaurant residency in Chester, only a few months ago. How times change!
There is little duplication in all the song material collected here - which is another bonus.
The inclusion of several Top Of The Pops shows (underlining the band's great success penning three minute radio-friendly tunes) rounds this product out and fans will also appreciate forty minutes of interview with the remaining members of the classic 1974-8 line-up.
Brian Robertson is understandably peeved that Lynott carried off most of the writing credits and believes the band should have had more recognition for their contribution to the songs. And whilst the shadow of Lynott is ever-present, the band's story on this DVD does provide a greater balance and insight.
Finally with this package there is also a bonus CD of a previously unreleased 1975 gig in Derby, when the band were promoting 'Fighting'.
A timely reminder of a great band and a collection worth having.
****
Review by David Randall
Interview with Scott Gorham, 28 September 2007 (4:49)
Edited from original broadcast on UKCity Radio, 14 October 2007.
© 2007 David Randall/GRTR! All rights reserved.
If you can't see the embedded player, you'll need Real Player. Follow the audio help link at the top of the page.