THE CORAL Roots & Echoes Deltasonic (2007)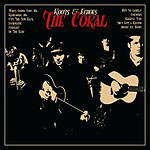 It's been a while. Or at least so it seems. But in fact, it's only been 2 years since The Invisible Invasion. Perhaps it's because after the highs of The Coral (2002) and Magic And Medicine (2003), the mini album Nightfreak And The Sons Of Becker (2004) failed to do it for me, and as a result I failed to investigate The Invisible Invasion.
Which looks to have been a faux pax on my part, given the magnificence of Roots & Echoes. But I wasn't the only person to fall temporarily out of love with The Coral. Following the extensive touring of The Invisible Invasion, founder member Bill Ryder Jones had had enough and decided to quit. The rest of the band questioned whether it would be right to carry on without Bill, but after a period of reflection, and encouragement from long time producer Ian Broudie and big-time fan Noel Gallagher, Bill relented.
And who's to say, but that wake-up call may just have been the catalyst for the a reinvigorated The Coral to deliver what is undoubtedly the band's best, and most accessible, album to date.
Roots & Echoes is simply packed with great pop/rock songs in the tradition laid down by Lennon and McCartney. The band's trademark sound - a mixture of the old and the new - is still present, but whereas before there were lurching moments of madness and mayhem, this time around it's been woven subtly into the structure of the songs themselves, giving a newfound maturity that will have an even broader appeal.
The new single Who's Gonna Find Me is a truly great pop song, as are the 10 other gems on this disc. It would be almost criminal to single any others out as there isn't a weak track on offer.
But, Put The Sun Back is a beautiful song, In The Rain another pop gem, Rebecca You a gorgeous number, She's Got a Reason brooding and moody, and Music At Night the perfect way to an end an album.
It may have escaped your notice, but all The Coral's albums have gone top 5. Roots & Echoes will be no exception.
The band will shortly be on tour supporting the Arctic Monkeys. And as good as that band may be, there is no doubt on the strength of Roots & Echoes, that it is The Coral who should be headlining. A simply magnificent return to form and a definite contender for album of the year.
*****
Review by Pete Whalley

---
---