THE BABYS Live In America Store For Music SFMCD080 (2007)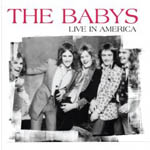 If ever a band were set up for failure, it was The Babys. Why? Because the name really, really sucked. I suppose it was acceptable back in 1974, what with glam and bubblegum pop all the rage. But for a band working in a rock idiom, even a commercial rock idiom, it was never going to work. Which is a shame, because they recorded some really wonderful songs over their five album career. Yes, five albums, because record companies actually developed bands back in the seventies. Did you know that REO Speedwagon released EIGHT albums before hitting the big time? Unbelievable.
Anyway, back to The Babys. By the time this concert was recorded on Valentines Day in 1980, they were on their way out. Despite a couple of top twenty hits in the USA - 'Isn't It Time' and 'Everytime I Think Of You' - their days were numbered. Too pop for the rockers, too rock for the teeny boppers, they were heading for a split with John Waite going on to some solo success and Jonathan Cain heading for mega success with Journey (before reuniting further down the line with bass player Ricky Phillips as Bad English).
There's not much detail to go on here, so this was probably recorded for radio broadcast, so the mixing isn't of the highest quality. And quite what Jonathan Cain was thinking of with some truly awful keyboard work, goodness knows. But John Waite was, and is, a fabulous singer, and inbetween the keyboard parping and the drum solo on 'Looking For Love', there are some excellent songs.
The highlights include 'Back On My Feet Again' from the "Union Jacks", as well as the hit 'Everytime I Think Of You", but there's no room here for "Isn't It Time", the one song UK listeners will recall. The title track of their third album "Head First" still stands up well. As a longtime Babys fan, I thoroughly enjoyed this, but casual punters may be better off checking out the budget priced "Anthology" first.
***
Review by Stuart A Hamilton
Head First
© 2007 The Store For Music. All rights reserved.
---
| | |
| --- | --- |
| | Print this page in printer-friendly format |
| | Tell a friend about this page |