SLADE Reissues Salvo (2007)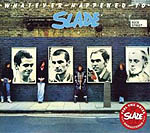 Three remastered and fully bolstered albums from the Kings of Noize, and three albums of damn good music that gets criminally overlooked. Kicking off with Whatever Happened To Slade (SALVOCD006), an apt title for 1977. Britain were well into punk and the NWoBHM was just round the corner.
Legendarily titled after a genuine piece of graffiti, the album is a return to the band's skinhead roots. It was also their first album since leaving Polydor. Some rough Slade style rock'n'roll, but gone was the glam (largely) and the kitsch. Still very much Slade, but if you're only familiar with the early 70s hits this is a very different beast.
There's some great rough guitar. 'Gypsy Roadhog' was a single, and 'Burning In The Heat' an undiscovered classic that was spiffingly covered by Girlschool some years later. Heavy on the guitar too. Not as anthemic as 'Merry Christmas Everybody' but there's some decent guitar work and melodies that really do need checking out. A whopping 9 bonus cuts too! ****

Following the successful 1980 Reading rejuvenation, 1981 saw We'll Bring The House Down (SALVOCD007). Kicking off with the title track, a real rocker, it's almost as metal as Slade could get.
'Night Starvation' a modern chunky rocker with a catchy riff and vocal harmonies. A rightful return to the charts. The album combined some of the rockier tracks from the long overlooked/forgotten 1979 album Return To Base with some new numbers, and this CD comes bolstered by the remaining Return To Base numbers (to complete that album too) and some bonus cuts.
A mixture of metal, rock'n'roll and new wave pop that worked remarkably well. Highlight is 'Dizzy Mama', a lengthy southern style boogie, a kind of nod at ZZ Top at their best. And for a bit of fun there's also Slade's rendition of 'Okey Cokey'. Left me smiling, but not sure in what context. Oh and Dave Hill with a shaven head - not a pretty sight. ****
Till Deaf Do Us Part (SALVOCD008) was another great set. Also from 1981, it opened with 'Rock'n'Roll Preacher'; yes there's a nod at 'Let There Be Rock' but in the nicest possible way. 'Lock Up Your Daughters' dropped the boogie and was solid thumping rock song.
Still classically Noddy Holder, but less cheese, not classic Slade but some damn good hard rock with that boot stomping Slade trademark. A very underrated period of the band's career. ****
All come in slip cases, thick, well annotated booklets and bonus tracks. Well worth checking out.
Review by Joe Geesin
---
| | |
| --- | --- |
| | Print this page in printer-friendly format |
| | Tell a friend about this page |