Tequila sunrise for Sammy...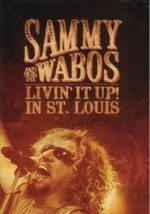 Sammy Hagar is probably best known for fronting the post-Dave Lee Roth Van Halen. However, when you consider his time with Montrose, Van Halen - and a considerable solo career, it's apparent that he has been entertaining us now for 4 decades.
This live DVD showcases some of the many great tracks Sammy has done over the years and current band The Wabos deliver one giant tequila fuelled party from start to finish.
In a show that incorporates bikini-clad dancers, a giant conga line and a never ending supply of tequila (Hagar owns his own brand of tequila that has just made him a fortune when he sold half to a major player in the alcohol business!!)- it is hard to pick the best tunes in a set that includes so many hits.
However, 'Mas Tequila', 'Rock Candy', 'Sam I Am', 'I Can't Drive 55' & 'Finish What You Started' make fine viewing. In addition, the second half of the show features ex-Van Halen bassist Michael Anthony, who fits in nicely with what appears to be one of the tightest live acts I have seen for a while.
Bonus material includes music videos, interviews and the promo for 'The Tequila Made Me Do It'.
This DVD will be making a regular appearance on my screen!!
*****
Review by Nikk Gunns