ROTTING CHRIST Theogonia Season Of Mist (2007)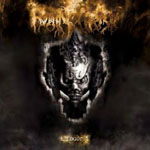 It took ten whole yeas for Sakis and Rotting Christ to finally escape the 'deadly claws' of Century Media records and by doing so ending one of the biggest injustices in the history of extreme music. Injustice may indeed be a very harsh word to use but certainly the only one capable of describing the way the German label treated one of the most innovative and artistically daring bands in the history of the underground extreme metal scene. Those of you who are aware of the band's long history, though, know Rotting Christ as an outfit that flourishes under the most difficult of circumstances so you will not be surprised to hear that after a year without a contract and with their future being uncertain, the dark lords from Athens have returned with what can only be described as the best extreme metal release of the new millennium, entitled "Theogonia".
With this ten track release, the band has managed to come full circle and bring out a collection of songs that features a variety of different elements and sounds - one that pays tribute to the glorious past, but one that also uses numerous melodic passages and choral refrains that are predominant in their last four studio albums. That exact mentality resulted in "Theogonia" being a very solid and coherent release, but at the same time the product of a group of musicians who are not only on top form, but also willing to expand the borders of their creativity by incorporating new elements in their already extensive repertoire.
It was more that a year ago, during a conversation that I had with the band's frontman Sakis, that I was first informed of his decision to include ancient Greek choral parts in the majority of the compositions that are featured in this release, but not in my wildest dreams did I expect the result to be as mind-blowing as that featured in the opening track of the album "Chaos Egeneto (The Sign Of Prime Creation)". This three and a half minute opus is the perfect example of Sakis' capability of creating simple but multi-layered compositions - balancing between aggressive rhythmical riffs and melodic/atmospheric guitar melodies. Just as I was beginning to catch back my breath, I felt the strong impact of the main riff of "Keravnos Kivernitos" and the whole world crumbled beneath my feet! This is another composition whose main ingredients are simply structured riffs and melodies but it also features one of the most glorious and catchy refrains that I've heard in ages!
From that point on, Rotting Christ presents the listener with the most daring and innovative aspects of their character, not only by incorporating the traditional sounds of the Thracean Bagpipe in the rhythmical mid-tempo killer "Nemecic", but also by adding Islamic sermons in the dark/aggressive dynamite "Enuma Elish". "Phobos' Synagogue" sounds like the band's tribute to their glorious past, being based on oneiric/atmospheric keyboard melodies similar to the ones featured in the band's debut release "Passage To Arcturo", whereas "Gaia Tellus" is a more vocally-driven composition with an anthemic refrain that many of you will be happy to sing along to.
For years I believed that Sakis and Co would never manage to record another composition capable of competing in both intensity and straight-forwardness with the epic "The Sign of Evil Existence" (see "Thy Mighty Contract"), but "Rege Diabolicus" was proven to be a worthy successor, seeing as it is quite similar both in terms of attitude and mentality with the previous mentioned classic. The album closes with two very melodic but powerful compositions, namely "He, The Aethyr" and "Threnody" and a four minute composition entitled "Helion Hyperion" which features some of the most weird samples and vocal lines ever added in a Rotting Christ composition.
"Theogonia" should not come across only as Rotting Christ's ninth studio album, but more importantly as proof of what the legendary Athenian outfit is capable of producing, providing that they enjoy the support of a decent label that believes in them. Twenty one years into their career, this amazing band is still capable of producing top quality music, so it's really up to you to decide whether you are willing to invest in it or indulge in the commercially driven garbage that most record labels nowadays are keen on promoting! No matter what your choice will be, though, the fact remains that this is probably the best extreme metal album to have so far been released during this decade.
*****
Review by John Stefanis
---
| | |
| --- | --- |
| | Print this page in printer-friendly format |
| | Tell a friend about this page |