RIESER The Well Dressed Thief (2007)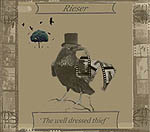 To listen to Rieser you'd be hard pushed to spot they were from North of the border. But hailing from Edinburgh, Livingston and St Andrews, Rieser are something of a breath of fresh air - a quality four piece who play an up market brand of melodic pop/rock.
And while most of their contemporaries are peddling bludgeoning rock/metal, or attempting to be the next Arctic Monkeys, Rieser are just a damn good guitar band with some great songs.
The album opens with Angerflow an absolute corker with a hook that will have you singing in the bath for months to come. The next track Assassins throws a smidgeon of ska into the mix, but it works in much the same way as Police blended reggae with rock. Again there's one of the best hooks you're going to hear this year.
The album continues in a similar vein for the rest of the twelve tracks that represent the best of the bands output over the last couple of years, although the quality control does tend to diminish towards the end. The ska influence reappears here and there, but never to the detriment of what is some of the best soft rock you're likely to here this year.
Just Seen A Ghost has an almost Golden Brown rhythm. Again the vocals are exemplary and while it's a mainly acoustic number it sounds like a rock band going through its acoustic paces. The Moodys, or latter day Marillion perhaps.
In a Children's Army opens has a catchy beat, excellent vocals, and another great hook, while Like A Whisper is another beautiful pop/rock ballad.
And to think Rieser are unsigned. A sad indictment of the times.
****
Review by Pete Whalley
Can't Take The Hurt
© 2007 Rieser. All rights reserved.
Band website
---
| | |
| --- | --- |
| | Print this page in printer-friendly format |
| | Tell a friend about this page |