File under durable guitar great...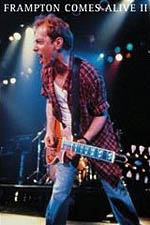 'I've no idea how many shows I've done between The Herd, Humble Pie and my solo career', Peter Frampton.
Whatever the real answer - including a stint as Bowie's lead guitarist on the 'Glass Spider' tour - Peter Frampton's combination of relentless solid road work over the years, his excellent guitar playing, and heartfelt songs more than compensate for the shortfalls. So whatever we may think about his 70's pretty boy image, and career mistakes, including the film of 'Sgt Pepper', and songs like 'I'm in You, mercilessly parodied by Zappa as 'I Have Been In You', this DVD is a triumph of content over image.
'Frampton Comes Alive' was arguably one of the those 1970's albums like Fleetwood Mac's 'Rumours' and 'Springsteen's 'Born To Run', that you got sick of hearing at the time. But 'Frampton Alive 11' is a more considered affair from an enduringly excellent and underrated guitarist and Pop/Rock balladeer whose style and look were arguably snaffled by Brian Adams. He even overcomes the handicap of a Tony Blair type smile, and a more than passing resemblance to the younger Jason Donovan, simply by the excellence of his music.
And ultimately if you accept there is still room in the rock cannon for guitar led melodic AOR then this DVD comes recommended.
'Frampton Comes Alive II' was actually recorded in 1995, in San Francisco as a celebration of the 20th anniversary of the original million selling album. 12 years on, the quality of the music overcomes any reservations, and is well worth marketing as an integral part of what the Americans now term heritage rock. With the exception of an occasional voice box outbreak as on the otherwise majestic ballad 'Can't Take That Away' on which he beautifully builds up the groove and tops it with a crucial solo, Frampton has that rare quality of letting the song stand on its own merits.
Listen to 'Penny For Your Thoughts', for a winning combination of excellent vocals, a beautiful guitar tone and strong melody lines that earn him a worthy ovation at the end of the song. And if the three big hitters 'Show Me The Way' (surprisingly low key here), 'Baby I Love Your Way' (acoustic version) and 'Do You Feel Like We Do', have become something of a (million selling) career albatross, then three decades on, the material has stood the test of time, being an essential slice of the 70's.
Frampton saves his best rock moment for last, with the big rock workout of 'I Wanna Go To The Sun' showcasing his supreme guitar work alongside long time compatriot Bob Mayo on keys. He also adds surprisingly tough dirt sounding solo on 'Do You Feel Like We Do', and a pop metal instrumental finish with 'Off The Hook' as if to remind us that appearances can be deceptive.
In sum any artist that can draw in a multi-ethnic crowd with as many women as men has done something right. And while 'Frampton Alive II' might be best filed under career retrospective, there's undoubted quality here that all but explains Frampton's deserved longevity.
****
Review by Pete Feenstra