minuscule hey Odette OD001 (2007)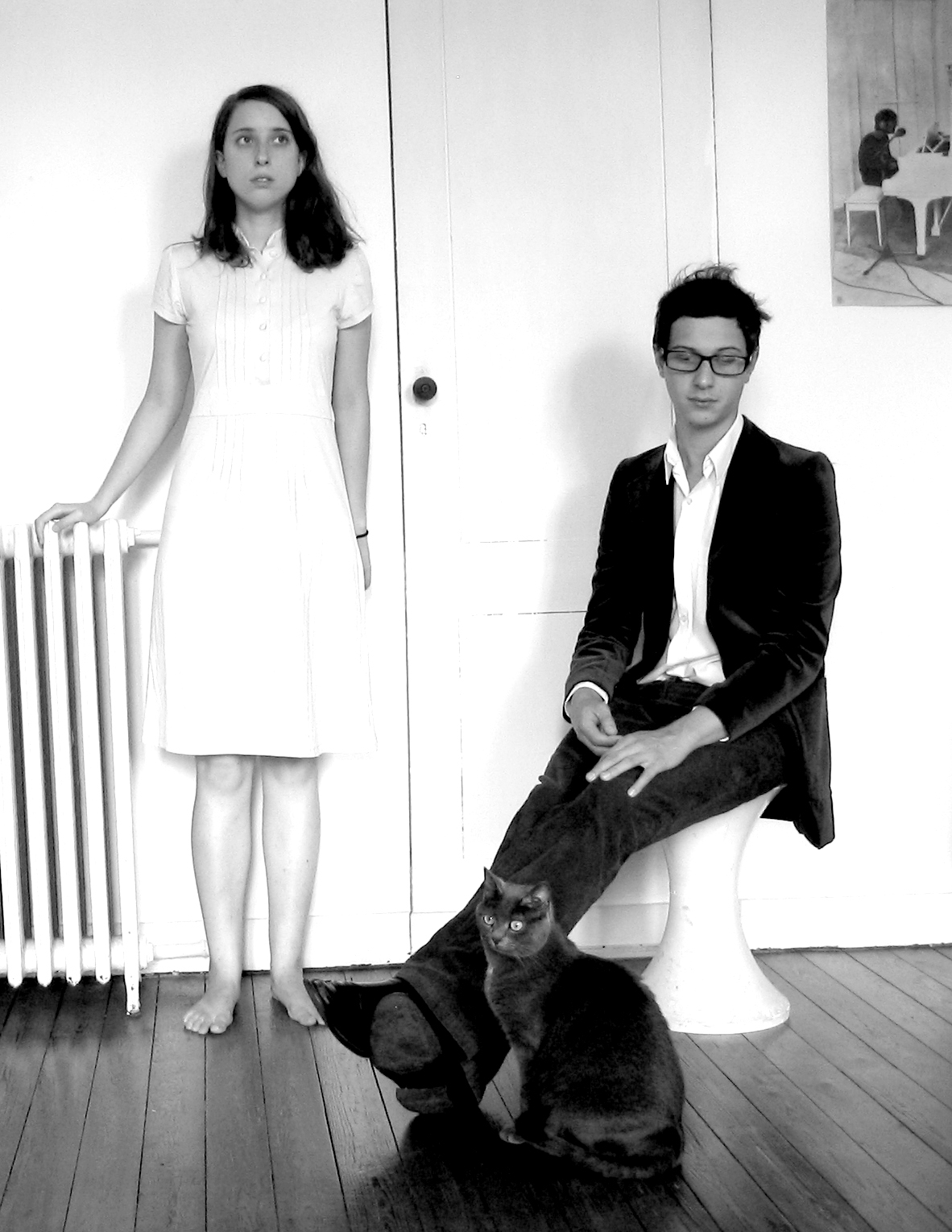 minuscule hey (the lower case applies) hail from South West France, sing mostly in English and play a brand of compelling catchy minimalist art rock that should bring a smile to any self respecting Talking Heads fan. But minuscule hey are not a full blown band but rather a very talented duo who feature excellent vocalists Laurent Mounier and Emily Soler and who have that rare ability to produce New Wave tinged contemporary pop couched in a 60's retro feel. The hugely innovative duo mix up some lightning time changes with impossibly catchy riffs, and clever hooks on a short 6 track promo CD that augurs well for the future.
Armed with just a guitar, bass and beat box, they stretch their minimalist trappings to the max using a clever mix of chopped up time signatures and well thought out dynamics.
On the frenetic 'Rollicking Harrold' for example, there's a kind of New Wave mix of stop and start riffs and a hugely effective hook to draw the listener in. The following 'Bunny Brown Ears' is an altogether more oblique piece, opening with a discordant guitar line and a supermarket narrative that is given full expression on the band's video debut of the same name. The conjoining riff between the first two verses is a disguised lift from Cat Stevens 'Mathew & Son' and the swift ascending chorus acts a brilliant link to another tempo change and a feverish outro.
The following self explanatory 'Cheap Girl' is an exquisite little piece of electronic pop complete with judicious use of handclaps, while the frantic 'Uncle Jim' is heavily reminiscent of the B52's and features a jaunty lead vocal something akin to a cross between the Bonzo's and The Kinks. The rest of the song is a blend of brilliant stop time rhythms, a chanted chorus, and another killer riff.
Laurent proves himself to be a gifted vocalist on the melodic pop of 'Eastern Tennis Man' with its nicely mangled verse, and a crunching chorus with added piano, and Zappa style voice collage. It's rare for such a stripped down duo to conjure up such melodic possibilities that are as redolent of the 60's as they are contemporary but this duo manage it effortlessly.
The closing simple keyboard led 'Alceste' is sung in both English and French and has since appeared on the band's My Space as their latest video. The English verses sound for all the word like a post psychedelic Brit pop band. There's a clever use of a recorder and simple 4 note electronic keyboard motif with two voices and celebratory handclaps, a very clever ending to half a dozen tracks bursting with the kind of creativity that by rights should have bigger record companies knocking on their door.
****
Review by Pete Feenstra
---
| | |
| --- | --- |
| | Print this page in printer-friendly format |
| | Tell a friend about this page |