MIKA Life In Cartoon Motion Universal (2007)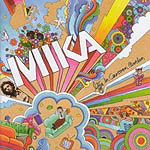 Mika is one of these artists that seem to come from nowhere and suddenly be big news, with a single currently at number one here in the UK and gaining good and bad reviews in equal measure. He's even had Brain May sticking up for him after a less than flattering review in the Guardian newspaper!
The music is seriously OTT pomp and you do wonder why he's had such success with his Queen influenced pomp when artists like Valentine and Valensia have been doing music similar to this for many years with little sales success. That aside this album is pure fun, despite a few blatant snippets of other tunes - 'Relax' is the Cutting Crew's 'I Just Died In Your Arms'.
The Queen sound runs throughout many songs from the current single 'Grace Kelly' which name checks Freddie Mercury through to the quirky 'Billy Brown'. Mind you 'Big Girl (You Are Beautiful)' is a tribute to 'Fat Bottomed Girls' right down to the throbbing John Deacon approved bass.
'Lollipop' will either have you revelling in its harmonies and child choir or running away in despair! Me, I love all its pomp and swagger (as does my eight year old daughter!).
'Stuck In The Middle' is one for the Supertramp fans out there along with Scissor Sister fans as Mike hits the high notes and then some.
The ten minute 'Happy Ending' almost delves into prog rock territory with a gospel choir and strings join the first half before fading out with just vocals and piano. Some very talented and experienced session musicians lend a hand including Jerry Hey, guitarist Tim Pierce and long standing REM string arranger Paul Buckmaster.
Not for everyone as it is very OTT and full on but the tunes are always instant and enjoyable. If you like Queen, the Scissor Sistors, Supertramp and pomp you will love this album. Like the mighty Queen you will either love Mika or run a mile!
****½
Review by Jason Ritchie

---
| | |
| --- | --- |
| | Print this page in printer-friendly format |
| | Tell a friend about this page |