MAN Diamonds & Coal Voiceprint/Point PNTVP134CD(2007)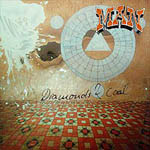 Depending on whether you include compilation albums or not and the occasional official bootleg, 'Diamond' & Coal is approximately Man's 46th album, and their first without Micky Jones. Long term fans will also note the absence of the departed Deke Leonard, but the one thing 'Diamonds & Coal' lays to rest is the vexed question of whether this is a true Man line-up and album.
And the answer to that question is a resounding yes for two main reasons. Firstly and most obviously there is the bloodline of the young guitarist George Jones – who does his seriously ill father Micky proud, and who is now finally an accepted integral member of the band in his own right. Ditto Josh Ace - Martin's son - who throws in a few co-writes and adds guitar and lead vocals on the album's two best tracks, the title track and the lyrically mournful but crunching riffs of 'Man of Misery'.
Secondly there is a definite sense of a Man continuum, and while the title track is pure riff driven Man of yore, for three quarters of the album the songs are easily as good as anything encompassing Man's previous 38 year recorded history.
If there is a down side it is that having started off so positively the set flags a little towards the quarter mark, thus while the John Fogarty style 'Welsh Girl' just about makes it, Martin's childhood angst retrospective 'Thank God It's Not Miss Cathy', although not without merit, is more stylistically suited to the Flying Aces rather than suiting Man.
Similarly the humorous 'Teddy Boys Picnic' is again an Ace style rocker, (and surprisingly one of two Bob Richards co-writes), that might have enjoyed a better context outside of the Man band. Then again given that Martin is steering the ship, he has apparently opted to exercise his casting vote.
But overall 6 out of 9 tracks isn't bad and Ace does deliver the goods in the politically caustic 'Freedom Fries', a song that somehow combines both lyrical integrity with a dark brooding music intensity, which when you think about it almost another new combination for Man.
Any number of enduring American bands have co-opted the next generation, from the Allman's to Skynyrd, only to remain stuck in the past. 'Diamonds & Coal' gains its strength because when finally called upon as full blown band members, both George and Josh contribute impressively as writers and performers. In fact at times Man find themselves deliciously balanced on a precipice straddling a Psychedelic Rock and Indie and Grunge divide, which for those with an open mind offers potentially rich rewards for the future.
****
Review by Pete Feenstra

---
| | |
| --- | --- |
| | Print this page in printer-friendly format |
| | Tell a friend about this page |