LUTHER ALLISON Underground Ruf 1132 (2007)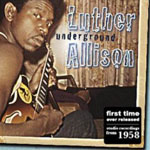 Such are the vagaries of the blues profession that this previously unreleased 1958 recording by the then 18 year old Luther Allison came 7 years before his first official single in 1965 and his subsequent 1967 debut album. And while there are any number of reason for being suspicious about a release like this, ranging from its how it was sourced, to the barely 30 minutes plus, worth of music, its pleasing to report that this is a real find. Listening to the younger Allison is a bit like trying to find the connection between the younger Hendrix as a sideman and the psychedelic gladiator of later years.
The difference of course lies in the genre which for Luther Allison was always soulful blues. In the company of Bobby Rush, himself a purveyor of soulful funky blues, Luther gets his first opportunity to air his guitar playing and vocal talent, and you can just about feel the beginnings of his true vocation. The session as outlined in the liner notes was a down time affa ir and very low key, but there are occasional moments of real inspiration, and signifiers of a talent that took far too long to be recognised in his native USA.
As band leader Bobby Rush explains, 'It wasn't any particular songs. We're just going in there to do what we could on the bandstand at night. We cut the thing up on one take as we didn't have any money to do anything better'. For the most part there's enough youthful enthusiasm and eagerness in Luther's vibrato to suggest he was hungry to learn his trade and as fast as possible, but more importantly he doesn't sound at all phased by fronting the band.
In fact he manages to relax and lean into his solos on 'Easy Baby' with only an early fade depriving us of further guitar exploration. If nothing else 'Underground' is the work of a blues player finding his voice and developing his tone, but with enough self confidence to take his chance.
Luther's fluent playing is well captured on 'You're Gonna Miss Me' on which he offers a brief improvised rap on the outro. In little over 30 minutes the band weave their way through 8 standards including a tough reading of 'Driving Wheel' which Luther attacks with real passion in a quavering vibrato before adding some bottleneck for good measure. The only shame again is the sudden fade out.
Even a curious tempo change on 'Cut You Loose' doesn't throw Luther off the scent as he makes the most of this rare occasion as a front man to improvise and slip into 'Spoonful' with accompanying organ.
All in all the 18 year old takes it all in his stride. By the time of the closing slow blues 'Rock Me' he's hit the spot, with a fine vocal performance and some telling licks. Listening to this session it's hard to believe a decade would elapse before a combination of changing public fashion and business sense allowed him to cut his debut album.
****
Review by Pete Feenstra
---
| | |
| --- | --- |
| | Print this page in printer-friendly format |
| | Tell a friend about this page |