A definitive retrospective of the leading Jazz Fusion guitarist...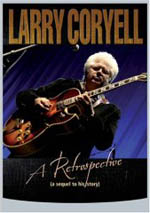 'The World is always ready to receive talent with open arms, very often it does not know what to do with genius' - So says 19th century American poet and physician Oliver Wendell Holmes. And while that quote elicited from the opening credits of this DVD is in some ways true in regard to the multi talented guitarist Larry Coryell, it is only partly helpful in throwing further light on this career retrospective that is humorously introduced by Larry's guitar playing son; 'He played rock in a jazz style, and jazz in a rock style' - 'and he played the blues in both style, fast, really fast'.
But unlike the more commercially astute Frank Zappa, Larry's vanguard of blues tinged and jazz fusionists who honed their style in late 60's and early 70's, found the going tough once the golden age of the jazz rock/fusion virtuoso had passed.
This retrospective musical journey in the company of long time drummer Bernard Purdie is both a timely reminder of a great crossover guitarist whose talent burns as bright as ever.
The bluesy and wah wah inflected 'After Later' which is included early in the set is a good example of Larry's wide ranging musical approach shifting quickly from a muscular groove to a flurry of manic notes in the space of a few bars. In truth Coryell's apparent disappearance from the Jazz/Rock/Fusion scene is as much to do with the inflexible commercial impetus of the music biz as it is with the world having to deal with genius.
More than that, as this splendid double DVD shows, Larry is never averse to seek the outer limits of a piece. Thus the reworked 'Souls Dirge' starts life on the DVD in rehearsals with a Hendrix like bluesy riff, and is quickly segued into gig footage featuring a Mick Taylor style vocal - very ragged, but always expressive - before slipping into a straight ahead jazz groove over the repeated original riff. Thereafter, Larry gives full reign to his speed and dexterity with some electrifying playing.
He may be eclectic at times, but is technically brilliant throughout, and plays with real adventure, taste and feel. In truth the problem for a crossover artist such as Coryell lies in the need for a meaningful context. In the early 70's everyone was experimenting, and pushing the boundaries, while now you are expected to fit neatly into genres for certain radio stations and diminishing retail outlets. Where for example would you place the early career nugget 'Beyond These Chilling Winds' (mis-spelt on the box) which conjures up the ghost of Jerry Garcia from The Dead in an expansive solo that beautifully uses tone distortion?
Larry is joined on the self explanatory 'Slow Blues' by Los Lobos guitarist David Hidalgo and shows he can make even the most mundane blues come alive with sparkling runs that don't really require the attendant split screen techniques. On 'Half A Heart' he develops a lovely melodic motif and plays some beautiful phrases in a triumph of feel over technique. Significantly perhaps it isn't until the six song encore on the disc 2 that he dips into the 1973 'Eleventh House' era.
As the title of this DVD suggests Daniel E. Meza's excellent film is both 'A retrospective' and 'a sequel to his story'. And if we consider his recent years spent playing acoustically and interpreting jazz standards as being a hiatus then this superb double DVD, complete with lovely rehearsal and concert footage is the perfect reminder of a huge talent.
Larry also whips up a storm in trio format on the 1969 funky wah wah workout 'Morning Sickness' - which was actually recorded 4 years before Herbie Hancock's 'Head Hunters'- and he relishes improvising on the reworked 'Spaces (Infinite)' from the same era. But more significantly for the future, the closing 'Dragon Gate' sees Larry trading licks with his accomplished guitar playing son Julian who takes the place of original guitarist John McLaughlin effortlessly. And having lauded his father at the outset of this DVD he proves himself to be a harder edged chip of the old block. This 2 DVD retrospective is indeed a sequel and delivers enough inspiration to suggest there is plenty more to come from his dad.
****
Review by Pete Feenstra