Kiss gig-fest, must-have for fans...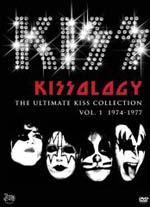 This new 2 DVD set is a reminder that long before KISS became one big marketing tool for Gene Simmons they were, in fact, one of Americas biggest and best groups in their genre - and this DVD covers their some of the bands most successful years.
This era covers the beginning of the band up until their massively successful 'Love Gun' album. Although, being this is essentially a documentary, the quality of the sound and footage varies throughout as we are presented with amateur footage, professionally shot film and also TV appearances.
There are 4 concerts, shown in their entirety, including Japan's The Budokan in 1977, Detroits Cobo Hall 1976 and San Franciscos Winterland from 1975, there are also a host of interviews and other TV footage, promo films and documentaries included on what I can only describe as good value for money, absolute must have for fans which gives a real insight to the golden era of the band. All the favourites from the time are here, including "Rock'n Roll All Nite," "God Of Thunder," "Detroit Rock City," "Deuce" and "Love Gun".
****
Review by Nikk Gunns