JOSEPH ARTHUR Nuclear Daydream & Let's Just Be (2007)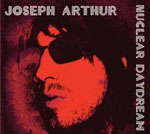 Oft mentioned in the same sentence as Ryan Adams - mostly in the past for their passion for alt-country tinged Americana and proliferation of output, Joseph Arthur follows in Ryan's footsteps by releasing two albums simultaneously. In the UK, at least.
Nuclear Daydream was released in the US late last year to widespread acclaim, while Let's Just Be has only recently seen the light of day. And they're two quite distinctly different albums. Nuclear Daydream is a stripped back and intimate acoustic based affair bringing folk acoustic troubadours such as Neil Young, Donovan and early Bowie to mind. While Let's Just Be was written immediately after Arthur's last tour with his new band The Lonely Astronauts, and visits far wider soundscapes.
Nuclear Daydream is Arthur's fifth full-length album and it's a fragile and beautiful creature - swooping lyrics and lushly composed songs of romance and despair. It's not overproduced and the emphasis on the performance is on 'feel' rather than technical perfection. It would have gone down a storm in the days of Crosby, Still, Nash and Nick Drake. So if yearn for the days of 'proper' singer-songwriters, 12 perfect songs over 45 minutes, then Nuclear Daydream is well worth exploring.
Highlights? The Neil Young reminiscent Black Lexus, the wonderful Don't Give Up On People which has a Satellite Of Love feel to it, and the stunning title track. ****
Let's Just Be, on the other hand, is mixed bag - kicking off with the Diamond Ring - an almost Prince/Stones-like r&b workout. But it's not atypical of the album as whole - which is a sprawling 16 tracks spread over 78 minutes - including the 20 minute extended Lonely Astronaut (with its chaotic and mid section) and the 9 minute Star Song. So you can't complain about value for money. Or as they used to say in the sixties - 'never mind the quality, feel the width'.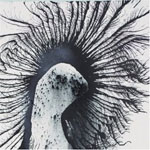 Which is perhaps appropriate for an album recorded over 3 weeks straight to tape using a back to basics approach. It straddles the full variety of Arthur's styles and is experimental in places - even by his standards. And while it's an altogether more rock workout than previous outings, there's still plenty of acoustic based numbers. But you do wonder if some careful editing might have honed the set down to a polished gem, as opposed to a rough diamond. ***
Neither album could be accused of being 'instant' and you're going to need to learn to love them. But that shouldn't be a problem if you're already a fan or were impressed by his last UK offering Our Shadows Will Remain.
But if you're going to dip your toe for the first time, go for Nuclear Daydream.
Review by Pete Whalley
---
| | |
| --- | --- |
| | Print this page in printer-friendly format |
| | Tell a friend about this page |