JON AMOR Unknown Soldier Boma Records (2007)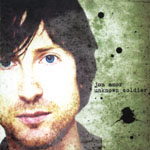 'Unknown Soldier' marks another significant shift from Jon Amor the high volume, high velocity indie guitar hero to Amor the thoughtful solo singer songwriter. And although this album does make use of a full band in parts, the emphasis is squarely on the impact of his songs. To that end it has been noticeable that a high proportion of his shows in the last year have been solo, and 'Unknown Soldier' is essentially a song writer's album that lives and dies on the back of some strong narratives and imaginative tales.
And having bobbed and weaved his way through a mix of Grungy groove laden rock, acoustic elements and funky grooves he completes his journey from a hard hitting rocker to an effective observational song writer on '19 New Park Street'. Amor mines a dispassionate reflective style of song-writing that find its oxygen in several stories, both real and imagined. And in the main it works well with the arrangements being well suited to his vocal style.
Granted the opening section of 'Drowning' does rock out with a characteristic big drum sound, and does the impressive 'Ball and Chain' which works well on the back of a muscular groove. But as with the undulating acoustic swing of the single 'In The Devil's Back Yard', the emphasis is on a solo effort rather than a full blown band effort.
Things don't always work immediately with the awkward mid-number tempo change in 'Drowning' tending towards the ponderous, but repeated plays bring more apparent reward. In many ways this album resembles several pieces of an audio jigsaw as Amor doesn't hang around over egging his talent. Thus the very accessibility of 'Under Your Skin' swiftly gives way to the mid tempo title track whose poetic lyrics are embellished in an acoustic wash, topped by Beatlesque bv's and some subtle processed guitar. And in many respects this track is the personification of where you imagine Amor to be happiest. Indeed on the following stripped down 'If You Were Me (and I Were You'), there is little more than up in the mix percussion and an effective call and response vocal line before some belated scratching and a distant guitar line joins the fray.
But as they say in the trade, you should save your best for last, and the piano led and delicately arranged horns and strings of 'Your Heart is Taken' act as the perfect foil for Amor at his most plaintive, as he digs deep to reach a new creative artistic level. Hard to believe that this is the same riffmeister of old, but life moves on, and 'Unknown Soldier' soldier is both a brave effort and a stylistic departure that will serve Jon Amor well.
****
Review by Pete Feenstra
---
| | |
| --- | --- |
| | Print this page in printer-friendly format |
| | Tell a friend about this page |