Voice of Purple retrospective...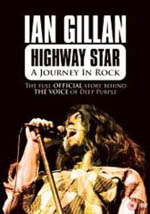 Ian Gillan is widely regarded as one of the greatest rock singers. Ever. And quite rightly so.
From college bands to Episode Six, Deep Purple, Gillan, Black Sabbath and Deep Purple again. Then solo and Purple again. Complicated, colourful and extensive history. And 2006 saw Ian Gillan's 40th year in the business.
This DVD looks at the man's history. With interviews, TV clips, the complete works.
Disc 1 kicks off with a look at the early work, featuring interviews with Pavarotti (Yes! Really), Ian's mum and even Def Leppard's Joe Elliot.
Much of the Deep Purple info is well documented, but nice here all on one set. Band interviews and live shots etc, which does make for great listening.
Disc 1 also features interviews with footballer George Best, a Deep Purple fan who became friends with Gillan; one of the last interviews before he died. A nice touch.
The solo work is interesting, some new and amusing info, but sadly parts are glossed over. Ian's comments on Janick Gers being a seamless replacement for Bernie Tormé are a little misguided, but like I said, a lot of interesting information.
Born Again, and the Black Sabbath story provides more amusing anecdotes.
The infamous reunion and re-sacking, the live shots of the new solo band touring Naked Thunder make for good viewing. Wife Bron Gillan and guitarist Steve Morris are both interviewed too.
Then back in Purple for The Battle Rages On, and Jon Lord quite rightly saying there's only one voice for Deep Purple.
Some interesting info on the politics involved on getting Gillan back, and further politics involved behind Blackmore leaving. Paice, Glover and Lord interviews do make for enjoyable and interesting viewing.
Bootleg shots of Satriani playing 'Smoke On The Water' follow, as do shots of Gillan singing with Pavarotti. Along the way there's interviews with many other musicians, including Ronnie Dio.
Additionally on disc 1 is a collection of interviews on various subjects.
Disc 2 features loads of extras which both Gillan and Purple fans will enjoy; on tour with Purple, work with Pavarotti, the Gillan Cam and other clips.
Much of the info has been aired on other programmes but it's nice to have it all here together, freshly done, with plenty of new footage.
Very enjoyable
****
Review by Joe Geesin