HEAVY PETTIN' Prodigal Songs Majestic Rock (2007)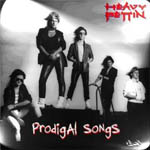 A more than worthy archive release for Scot-rockers of the 80's Heavy Pettin'. Prodigal Songs collects together some 13 unreleased tracks recorded in various studios at various times between 1982 and 1987 and rejoices in the fact that it's just the band and an engineer without any influence from record company execs of the kind that so badly directed the band back in the day.
Capturing often great examples of one of NWoBHM's most melodic offspring it's still hard to understand fully why Pettin' didn't get more exposure.
On this disc alone the excellent Dokken styled 'Break It Down' and speedy hard rocker 'Don't Walk Away' excel and stand as fine examples of their craft. 1982's 'Speed Kills' is the most fascinating and indeed the earliest recording here. Guitar heavy, biker friendly rock it's the song that original secured the then fledgling band Friday Rock Show attention. Indeed it's strange that tracks of this quality haven't found a release sooner.
However, like fellow UK nearly men FM and Shy for instance, there is more than a hint of chasing trends through the years evidenced on 87's "I Don't Care What You Say Anymore' with it's Europe style keyboard fuelled pomp and the Jovi-esque 'Hot Women' which would have fitted 7800° Fahrenheit nicely.
Likewise on 'My Love For You' read Foreigner, but then what struggling band with major label prompting didn't chase a hit single back then?
Whatever their failings, Heavy Pettin' are a band that seem to attract more nostalgic recognition that many as the years pass and this release provides more than enough quality melodic rock to maybe pick up a few new fans as well.
For fans of the band's output of 20 odd years ago however it stands as an essential addition and will sit nicely alongside Lettin' Loose and Rock Ain't Dead.
***½
Review by Bill Leslie

---
| | |
| --- | --- |
| | Print this page in printer-friendly format |
| | Tell a friend about this page |