Just witnessed your best live gig?..send us a review!
HEAVEN & HELL
Sheffield Hallam Arena, 7 November 2007
Photo Gallery

A disappointingly half-empty Hallam arena is the venue for tonight's step back in time. This may have something to do with the fact that another major tour, featuring Alice Cooper & Motorhead, is happening at the same time and appeared here in Sheffield the night before. Combined with the countless other bands on tour this month, it would appear that the average rock fan's pocket is being hit rather hard, and attendances will naturally be down because of this. The exorbitant 'service fees' and 'processing fees' being charged by ticketing agencies cannot help the situation either - but that is a debate for another place.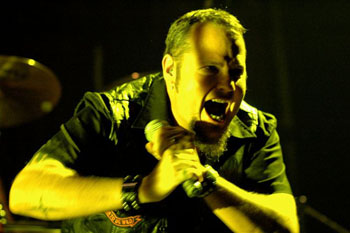 Iced Earth, photo: Lee Millward
Tim (Ripper) Owens fronted Iced Earth open up proceedings and deliver a (too) short, 30 minute set of quality power metal. Tim seems to have found a good home here, where his vocals and stage presence are used to maximum effect, and he works well with the other band members. The whole band are clearly enjoying the opportunity to open up a show for a legendary band (who wouldn't), and a very enjoyable half hour ensues. I often judge bands on their live performance before buying CDs - add another one to the shopping list, 'Framing Armageddon'!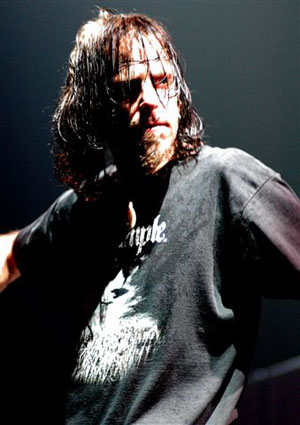 Lamb of God, photo: Lee Millward
Not too much to say about the Lamb Of God 40 minute set, except that it was loud, it included lots of pointless swearing, it was grunt metal - totally out of place in the context of the event, and it was 40 minutes too long for me!
The lights go down at 9pm precisely, and Iommi, Butler, Dio, & Appice take to the stage to the gentle sounds of 'Mob Rules'. The stage set is very nicely designed, understated yet perfectly apt for the occasion (no Stonehenge here). In the form of a church yard with the amps stacked behind railings, giving the impression of tombstones in a graveyard, and 3 arched window shaped video screens, that are raised and lowered as required throughout the set. The lighting designer for this tour deserves an award, because the effects are superb throughout the set and up there with the best I have seen, despite not having huge numbers of specialist moving gantries.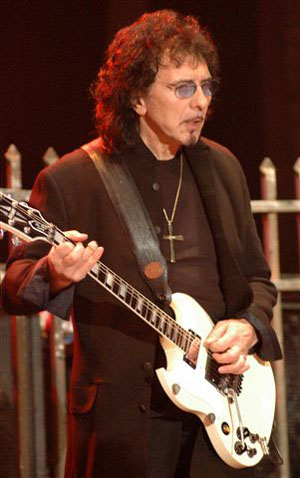 Tony Iommi, photo: Lee Millward
As for the band, well nothing short of brilliant as you would expect. Tony Iommi always astounds in being able to get such a dark, gritty, doom-laden sound out of his guitar with an apparent minimum of effort, whilst also able to deliver sublime solos when needed. The intro to 'Die Young' is worth the entrance fee on its own.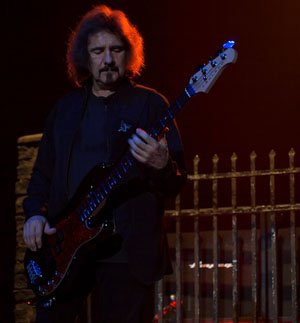 Geezer Butler, photo: Ian Pollard
Geezer Butler is all action, never breaking away from pounding that bass into submission. As bass players go he really is a joy to watch, and he does not have the luxury of multiple lead instruments to cover any small errors. Needless to say, he didn't appear to miss a note for the whole set.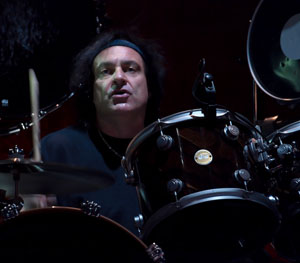 Vinny Appice, photo: Ian Pollard
Vinny Appice is a very good choice to fill the shoes of Bill Ward on the drum stool. He hits the kit as hard as any drummer I have seen - must keep his skin supplier in good business. The obligatory drum solo (during 'Voodoo') maybe went on a little too long, but was quite entertaining nevertheless.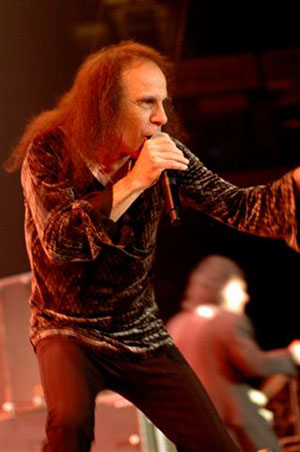 Ronnie James Dio, photo: Lee Millward
Last but not least, Ronnie James Dio continues to defy all the rules about getting older. He still sounds as good as he ever has, and still moves around the stage as nimbly and quickly as he was during the 70's and early 80's.
The set list covers the 'Heaven and Hell', 'Mob Rules' and 'Dehumanizer' albums fairly equally, and all too soon the band launch into their signature tune to close the main part of the set.
The first encore song is a strange choice, being one of the newly recorded tunes 'Shadow of the Wind'. It works really well though, and just further proves that these guys can still write and perform at the same level they have been for over 35 years. 'Neon Knights' closes out the set, and 90 minutes is over with far too quickly. A great performance, and superb show, by masters of their craft.
Review by Ian Pollard
Set list:
Mob Rules
Children Of The Sea
I
Sign Of The Southern Cross
Voodoo - with Vinny Appice drum solo
Computer God
Falling Off The Edge Of The World
Die Young - with Tony Iommi Intro/solo
Heaven And Hell
Encore :
Shadow Of The Wind
Neon Knights

---
Photo Gallery

Album review

---
| | |
| --- | --- |
| | Print this page in printer-friendly format |
| | Tell a friend about this page |