Heart strip back the Dulux...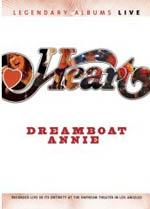 Heart are clearly back in business. 2002's Alive In Seattle CD/DVD was a monstrous set with a vocal performance by Ann that would strip several decades' worth of paint. And while 2004's Jupiter's Darling was at best patchy, Ann's recent solo album Hope & Glory did something unexpected - deliver a gold plated collection of covers.
And here we have another 'must have' for fans and anyone who appreciates 1970s rock. Recorded in April 2007 at the Orpheum Theatre in LA, Heart perform their spectacular debut album in its entirety and in sequence (plus you get 5 bonus tracks - Mistral Wind from Dog and Butterfly, Goodbye Blue Sky - the Floyd track featured on Ann's solo album, Zeppelin set staples Black Dog, and Misty Mountain Hop, and The Who's Love, Reign O'er Me).
Originally released in 1976, Dreamboat Annie firmly established Heart as premier league rockers with sales of over 3 million, and this is a loving revisiting and celebration of that 'classic' album. For those watching the dvd, the set is preceded by an interview with Ann and Nancy that sets the scene of how Heart came to be and their influences. But the meat is, over course, the set itself.
The Orpheum Theatre is the perfect venue for a venture of this nature - large enough to create an atmosphere, but no too large to lose the intimacy (don't you just hate arenas?). Of course Dreamboat Annie includes a number of tracks that have stayed in the set list for over 30 years and will be familiar to almost everyone, in particular Magic Man, Dreamboat Annie, and Crazy On You. But the highlight is some of the tracks that haven't been played live for decades such as White Lightning & Wine and less familiar numbers such as (Love Me Like Music) I'll Be Your Song, and How Deep It Goes.
Re-visiting past glories can be a risky business, but with a core line up of Ben Smith on drums, Craig Bartock on guitars, Debbie Shair on keyboards, and Ric Markmann on drums, Ann and Nancy pull it off with aplomb. They dust an old favourite down, and give it a fresh coat of paint. 1970s rock - don't you just love it?
****½
Review by Pete Whalley