Lasers set to stun...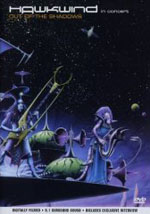 Hawkwind has always attracted rather rabid fans who are keen to get a hold of whatever they can from the band.
This DVD will suit them to a T. Filmed in Newcastle at the Opera House back in 2002, it shows Hawkwind in all their post-millennium glory complete with daft outfits, unintelligible lyrics and trippy musical workouts.
The cover of this disc is a rather good clue as to what lies therein.
The disc ends with the inevitable "Silver Machine" and is one of those DVDs that makes you feel stoned even if you are sipping mineral water.
This is pretty much 141 minutes of space rock glory. If you love the band, than this is for you. For the rest of us it's a personal choice. I rather enjoyed watching the nuttiness that is Hawkwind.
***
Review by Marty Dodge