GWYN ASHTON Prohibition Riverside RRUKCD14 (2007)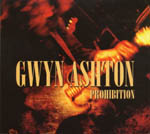 If you watched Life On Mars on the telly recently, you'll be aware of the resurgence of all things '70s - and one of the big things in music, particularly in the early seventies, was the blues-rock power trio. And here's Gwyn Ashton with an absolute belter of an album, which doffs its cap to the power trio genre, (Taste and Rory Gallager in particular) yet manages to sound contemporary at the same time. It's some trick - and it works.
Ashton is an Australian-born guitarist of real power and he's put together a band with Chris Glen (ex SAHB, Ian Gillan, etc) on bass, and, perhaps more importantly, Ted McKenna, who toured and recorded for over three years with Rory Gallagher, on drums. There's no mistaking the Rory connection - he's got a battered Strat, a love of the blues, and hell, he even looks like Rory - but forget any ideas of this being some sort of tribute band - he's very much his own man.
There's twelve tracks on offer here and it's all killer no filler as someone once said.
The album kicks off with the classic blues/rock rifferama of 'Get Up, Get Over It' which sets the tone for what follows. There's blistering fretwork from Gwyn all over the place, but for me there are four standout tracks.
A great cover of Rory's 'Secret Agent' gives a strong reminder of what we've been missing since Rory passed away, 'Ain't My Style' has a classic Stevie Ray Vaughan riffalike, and 'The Road Is My Religion' which I rattled my brain to remember what it sounded like (don't be put off when I tell you it's Bon Jovi's 'Wanted Dead Or Alive'!).
However the track that takes the biscuit is 'Rest In Paradise (for Stevie), which, when I read it was a tribute to Stevie Ray Vaughan, I got that sinking feeling that it was going to be one of those maudlin ballads full of sanctimonious, claptrap lyrics that have you reaching for the sick-bag. How wrong can you be - it's a superb, wholly instrumental tribute to SRV which has familiar Stevie licks weaving in and out all over the place. I don't think Stevie could have had a better epitaph than this.
All in all this is a great album and if blues/rock fretmeistery is your thing, well, what more can I say - buy it!
*****
Review by Alan Jones

Road Is My Religion
© 2007 Riverside. All rights reserved.
---
| | |
| --- | --- |
| | Print this page in printer-friendly format |
| | Tell a friend about this page |